This kind of music had the chance to host so many exceptional musicians, really talented and with great personalities. At the case of OMEN, it seems that luck was smiling and contributed so that four of them met and put together a band that wrote its own history during the 80s'. The best part was that those great musicians weren't playing for their own show-off but they acted as a team, by writing exceptional songs and by releasing great albums, gaining wide acceptance and respect. And it's really pity that the founder and the leader of this Metallic Dream Team Kenny Powell hasn't been able to realize how great he was as a musician and as a com poser and how great his own creation was and in a difficult time for the band he chose not to take the situation in his hands. He chose to trust others and that lead him to a big disaster. The worst part is that he did nothing to turn over this difficult situation, so he gave up unconditionally, leading one of the best bands in history to disappear.
But we still have time to get to that point, I' ll write more about it when the time comes (you just heard the sigh of relief of Miss Karpodini, who is preparing herself for one more heroic translation....). It's now the time to start our trip back into time, in 1983, when Powell with the SAVAGE GRACE released his first record, under the title The Dominatress. In my opinion, this E.P. is completely bullshit. However, it was the beginning of his great future. Not of course because it made Powell well known across the world but because it made him understand for the first time that he didn't want to be in the same group with another guitar player. That concluded to leave the group in order to follow his own separate road. At this road he got lot of help from the Goddess of Luck, who sent him musicians that he always has been dreaming of.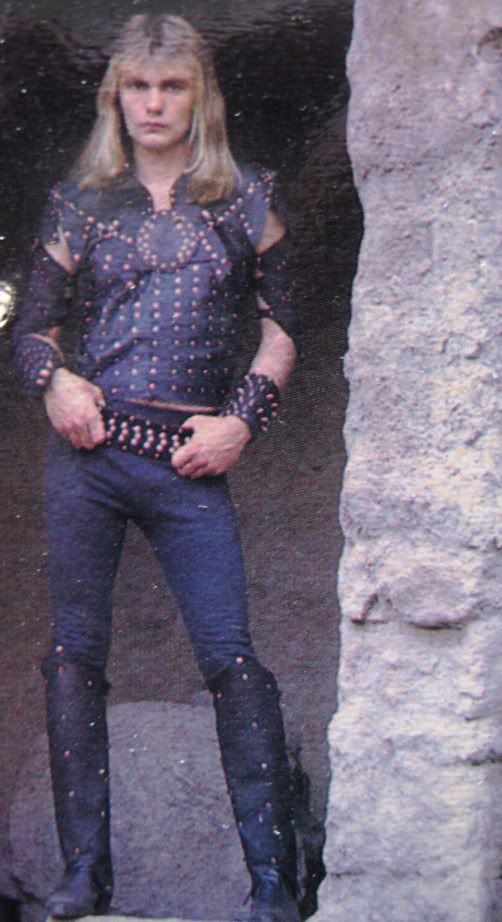 Kenny Powell
Kenny Powell, J.D. Kimball, Jody Henry, Steve Wittig, probably the best line up that has ever shown up in a Metal band. First of all the great Kenny, the leader and the symbolic physiognomy of the group, a charismatic guitar player that used to "shoot" without mercy to every direction, not letting anyone understand the gap from the second guitar by playing for two, or even for three. But even when someone could feel a "deficiency" in guitars, the great J.D. was backing up, the person with the incredible and melodic voice. A voice that could be said was made to cover the gaps that all the rest were leaving. But what gap could probably exist when Jody plays the bass? Absolutely none. A bassist with unbelievable technique and even more unbelievable ideas, who in combination with the amazing Steve Wittig in drums have put the solid foundations of OMEN.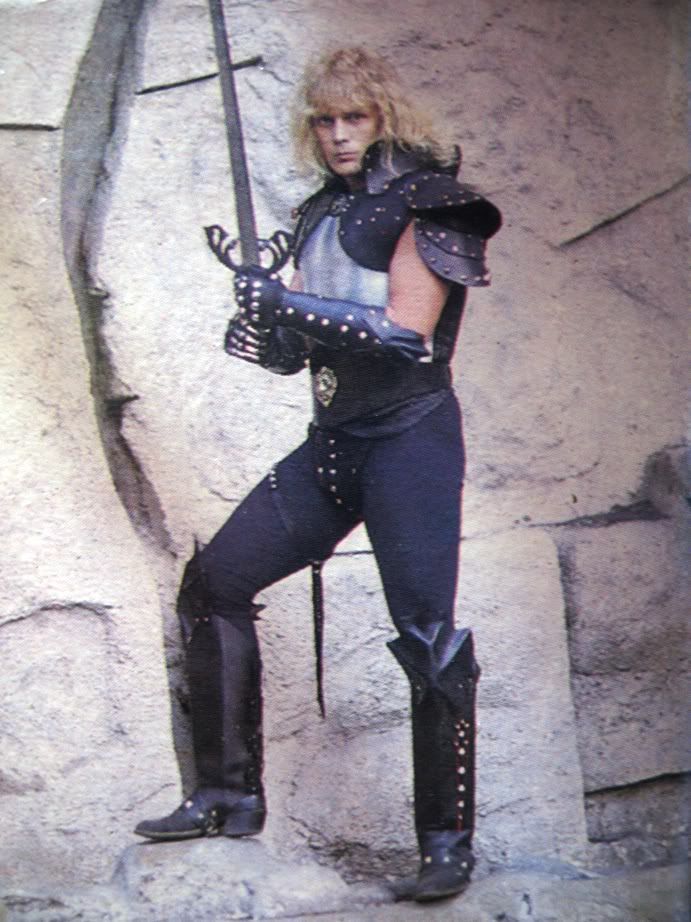 J.D Kimpall
The first music recording appearance of the band was in 1984 with their participation in the complication Metal Massacre V with the Torture me, a song that I find one of their best, but which unfortunately wasn't included in any album. The guitar player Joe Jaimes participated in this song (at least that's the name that is written at the back cover of the album, but taking into account that Wittig is written as Whittig, it could probably be James or something else....). As you may understand Powell couldn't stand him either and he made him leave the band. I should notice that Metal Massacre was a chain of complications that Metal Blade released at that time, including songs form demos that new groups were sending to the company. I believe that Metal Massacre V is the best of them, since groups that were never heard before became popular, playing a very significant role in the Metal scene. Except for the OMEN you will also find OVERKIL with the Death Rider, FATES WARNING with the Soldier Boy, METAL CHURCH with The Brave (probably their best ever song) και τους HELLHAMMER (in the future CELTIC FROST) with the Crucifixion. I don't know if this complication is still available but if you find it, don't hesitate to buy it since it includes songs that doesn't exist in any other of those groups' album.
As expected OMEN was one of the groups that "stole" the heart of Brian Slagel, the founder and owner of Metal Blade who later this year produced their first album under the title Battle Cry. With this title, this cover and the photos of the members of the band wearing armours in the back cover, the swords and all the other necessary accessories you can't expect anything else than Epic Metal and that's exactly what they are playing. Raw, primitive, barbarian "fucking" Metal. Their next two albums may be better from all points of view, the band may has been improved in all areas, but Battle Cry was, is and always be my favourite. Maybe because the magnificent J.D. Kimball was in the best shape during his unfortunately very short career. Maybe because here you forget all those "crystal" productions, you forget about anything pointless, maybe because here you find only "blurred" and raw violence. If you think you can stand it then you should sharpen your swords and prepare yourself to get transferred to ages when only one law existed: You live by the sword, you'll die by the blade, stand for the fight, you're life I will take, you'll Die By The Blade". Get ready to raise your fist proudly, yelling with all the power that you have your War Cry: The smell of death lingers in the air, blood stained bodies scattered everywhere, in the distance thunder in the sky, see the sorrow, hear the Battle Cry". Don't you have enough blood yet? Then ride your horse and annihilate anyone that may stand in your way: "Ride against the wind, shameless killer in the night, rape another village before the break of light, trample down the ashes grind them with your hate, take another helpless life before it's too late. Death Rider, you've taken the world by storm, Death Rider, out of sin and hatred you were born".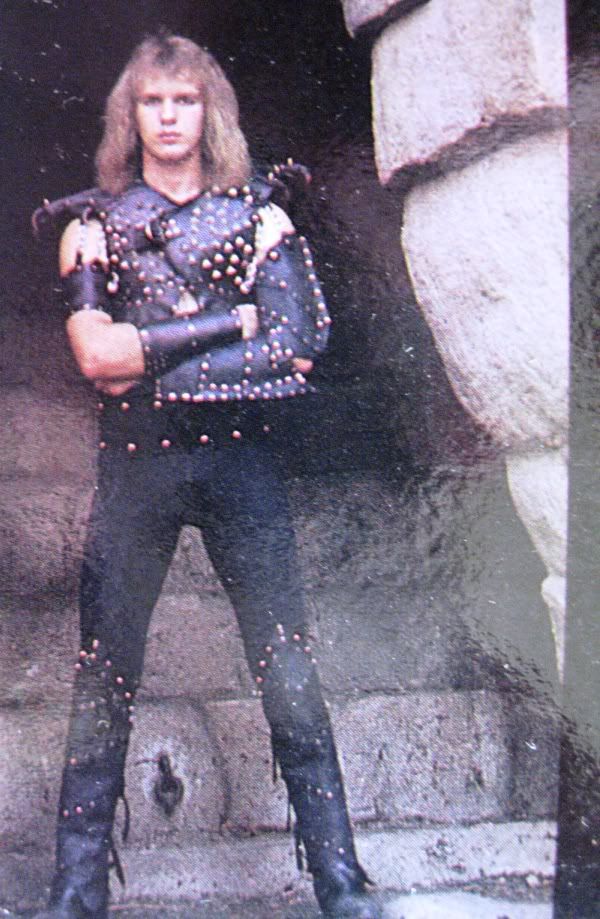 Jody Henry
Thinking that even the most cruel warrior needs a few moments to relax take a break (that's relative of course...) with the really speed and favorite Be my Wench and Bring out the Beast, that the band dedicated to some girls named Leslie and Michelle: "Woman you are hot and I'm on fire, all night we set the world ablaze, you bring out the beast in me". And have a "fucking" great time...
Now that you have rest and regained your power (that's relative too....) take your axe and make them all get on their knees in front of you: "Bow down to The Axeman, hooded figure of mortal fear, bow down to The Axeman, sun is rising, time is near". If you are bored of the attacks from the ground, then ride your Dragon and spread the death from above : "Give us all sanctuary, Dragon's Breath we fear, shelter us from the burning, Dragon's Breath is near, spitting flame and fire, Dragon's here". And you may sometime find yourself into battle with enemies that you can't face (Prince Of Darkness), you may find yourself a step before dying (Last Rites) and you may die at the end, but you will die in glory, in a way that suit to a great Warrior: "In armor and mail, you were born to fight, learned how to kill keeping the gold in sight, who can match your fury, none can give you such pain, part man and beast time to battle again. In The Arena, oh mighty Gladiator, In The Arena, you are the chosen Warrior".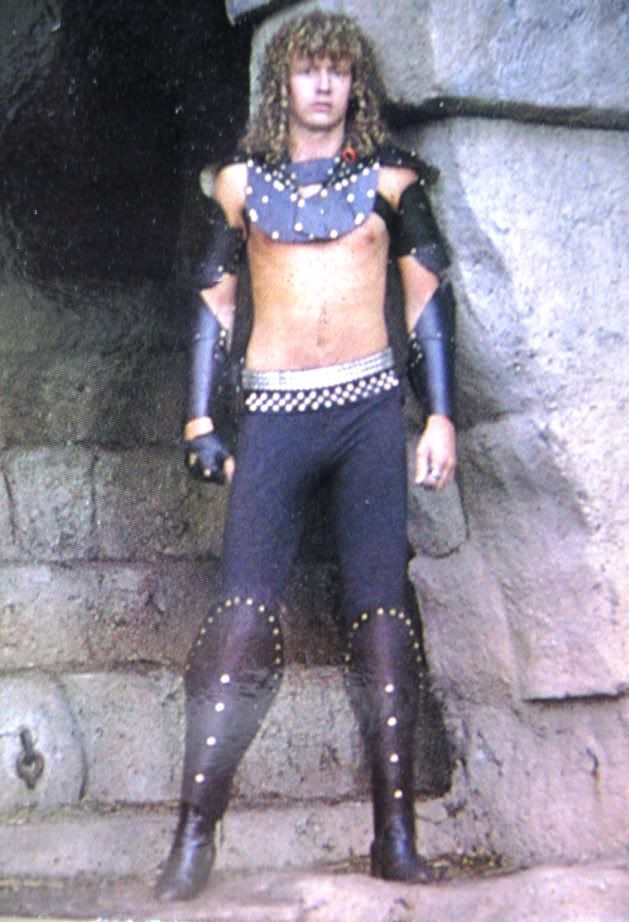 Steve Wittig
This is unfortunately the end of this amazing record, this unrepeatable GREAT SAGA and we need to get back to nowadays. I think I'll stay there for a little bit longer, still having a chance to survive ...from the blades of Miss Karpodini I have no chance at all.... except if I manage to convince my dearest and precious sister (slourp, slourp) to make this translation.. if I make it, you will hear from me again soon, otherwise..."Nowhere to run, the nightmare is real, there's no way escaping the wrath, the wrath of my steel. You live by the sword, you die by the blade"....
Antonis "The Nightrider" Alexandropoulos
Translation by Barbara Alexandropoulou