BELGIUM'S HUNTER RELEASE "REBEL ANGELS RISE" LYRIC VIDEO; NEW ALBUM OUT IN SEPTEMBER
BELGIUM'S HUNTER RELEASE "REBEL ANGELS RISE" LYRIC VIDEO; NEW ALBUM OUT IN SEPTEMBER
Just days after their outstanding appearance at Alcatraz Festival – Belgian metallers Hunter have released a lyric video for the title track of their new album Rebel Angels Rise. Earlier this month, the band released a single for the song "Wicked". The new album will be out on September 2, and is already available for preorder on Bandcamp (CD and digital).
About the newly released song "Rebel Angels Rise": "We have all fallen down to Hell, we've been banished from paradise. But as the victorious, optimistic melody of the song suggests: we decide not to accept this fate. A sing-along song about a challenge accepted. If not for victory, then revenge."
Rebel Angels Rise brings listeners a barrage of pure metal with a variety of influences, highs and lows, speed and slows, screams and grunts, sizzling riffs and twin solos. Hunter's second album shows maturity in song writing. They've taken some adventurous choices: more melody here, more thrash there. Maybe a wink to classic rock somewhere else. While always clearly Hunter, always rooted in traditional metal, the seven songs are different, taking you from one setting to another, to keep you hooked from start to finish.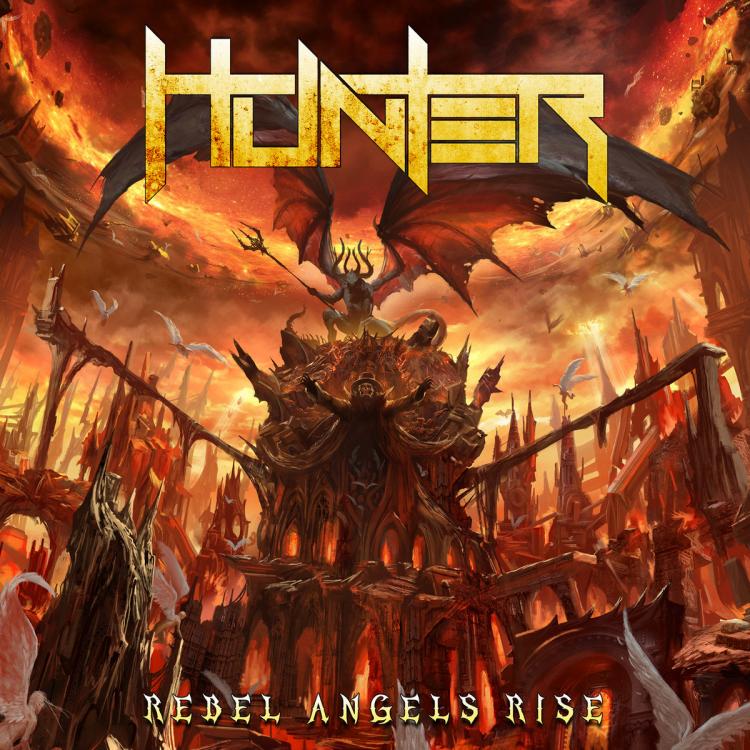 Tracklisting:
Wicked
The Forge
Rebel Angels Rise
Requiem
The Knight Of The Black Rose, Part 2
Suffocate
Morior Invictus