KK'S PRIEST REVEAL DETAILS FOR THE SINNER RIDES AGAIN ALBUM; "ONE MORE SHOT AT GLORY" MUSIC VIDEO STREAMING
KK'S PRIEST REVEAL DETAILS FOR THE SINNER RIDES AGAIN ALBUM; "ONE MORE SHOT AT GLORY" MUSIC VIDEO STREAMING
On the blazing heels of their highly-lauded 2021 debut album, Sermons Of The Sinner - which debuted within the Top 20 on charts in the United States, the UK, Germany, Sweden, Finland and more - KK's Priest return to sin again with their savage sophomore offering, The Sinner Rides Again, out September 29, 2023 via their new label home, Austrian rock and metal empire Napalm Records.
With The Sinner Rides Again, the powerhouse heavy metal amalgamation of iconic Judas Priest alum and GRAMMY Award winning/nominated musicians K.K. Downing (guitar) and Tim "Ripper" Owens (vocals), along with A.J. Mills (guitar), Tony Newton (bass) and Sean Elg (drums), double down on the ripping melodic force of their debut. The Sinner Rides Again wields nine tracks of pure hellfire, produced and written by Downing and mixed/mastered by Jacob Hansen.
Today, fans can experience an early taste of The Sinner Rides Again via the blistering first single "One More Shot At Glory". The track evokes a high-stakes battle with heroic chants and double bass, setting the stage for a spine-tingling guitar solo! The track is accompanied by an intense, high quality music video.
K.K. Downing says about The Sinner Rides Again:
"To continue the legacy of the traditional rock and metal that I have been so fortunate to be a part of for over 50 years, this latest album, The Sinner Rides Again, has been created to take the listener on a journey that is both real and fictional with its characters, although sometimes ambiguous. These songs allow the imaginations of all fans of this wonderful genre of music to escape reality and join with us to continue our heavy metal experience into the future."
Downing adds regarding the band's signing with Napalm Records:
"With a brand new record that needed placement with a great record label, we discussed the labels we liked, and Napalm Records was one of those companies. It's fair to say that Napalm is a leader in the heavy metal genre and has been for a long time now. They have a fantastic roster of both established and new bands and artists that are a force to be reckoned with. So it's a roster of some of the top and leading metal bands in the world today, and for the foreseeable future. I am pleased to say that we are excited about partnering with Napalm Records and we look forward to working together."
Sebastian Muench, Senior A&R, Napalm Records adds:
"K.K. Downing has created, with the sophomore album The Sinner Rides Again, an absolutely brilliant heavy metal masterpiece - one, I believe, that will stand the test of time and will be listened to by metal fans around the world for many, many years. K.K. Downing is a genius and Tim "Ripper" Owens' vocals are simply mesmerizing! Napalm Records is absolutely proud to help continue to build this legacy."
After stepping out of the Judas Priest spotlight, the return of K.K. Downing was uncertain. Nearly ten years after its onset, the genre-defining guitar icon returned from his hiatus with proof that he was nowhere ready to cease writing classic metal songs or to put away his famous Flying V guitars - taking part in acclaimed international comeback performances (including with his former Judas Priest bandmates when they were inducted into the Rock And Roll Hall of Fame in November 2022) that would act as harbingers of the formation of KK's Priest.
Downing was recently quoted saying, "We've lost a lot of great people – Dio, Lemmy, for example – but this amazing and unique style of music must be preserved for as long as possible and I feel it within me to continue to play my role, as I always have, and to defend this metal genre, which we all know and love." The Sinner Rides Again is a testament to this call for the classics while speeding full force into the future, delivered by some of heavy metal's most essential performers.
The immense and intricate art for The Sinner Rides Again was created by talented artist Andy Pilkington.
A haunting introduction of dual guitars carries the listener into the thundering "Sons Of The Sentinel", winding across a wasteland of burning riffs and a deftly dynamic guitar solo to kick off the record with relentless energy! The undeniably catchy anthem "Strike Of The Viper" proves itself as one of the album's most unforgettable tracks, before "Reap The Whirlwind" crashes in with a classic heavy metal power thrust of soaring leads, hair-raising harmonics and earworm vocal hooks. 
First single "One More Shot At Glory" raises its sword high, instantaneously calling for battle with its opening riff and beckoning verses. Heroic chants and unrelenting double bass set the stage for a galloping midsection as a spine-tingling guitar solo commands the song. Striding "Hymn 66" commands with sultry, slow and low metallic punches and a bluesy gait, while massive title track "The Sinner Rides Again" straddles balladic passages and sinister, head-bobbing choruses. 
Beginning with ominous bells, "Keeper Of The Graves" rounds the final bend of the album with roaring cascades and a dynamic performance from Owens, before charging "Pledge Your Souls" and rollercoaster closer epic "Wash Away Your Sins" rise as the final embers of a certified burner - proving itself as a must-hear metal album of the year by the greatest to ever perform the genre.
The Sinner Rides Again will be available in the following formats:
-Digital Album
-1CD Digipak Edition           
-1LP Gatefold in Black
-Wooden Box Edition (incl. Digipak, Flag, Logo Wristband, Artprint, Patch) - Napalm Mail Order only, limited to 500
-1LP Gatefold in Marbled Orange and Black - Napalm International (excl. North America) Mail Order only, limited to 300
-1LP Gatefold in Transparent Orange - Napalm North American Mail Order only, limited to 300
-1LP Gatefold in Orange, Blue and Black Inkspot - Napalm Mail Order only, limited to 500
-Cassette Tape Edition in Red with White Print - Napalm Mail Order only, limited to 200
Preorder here.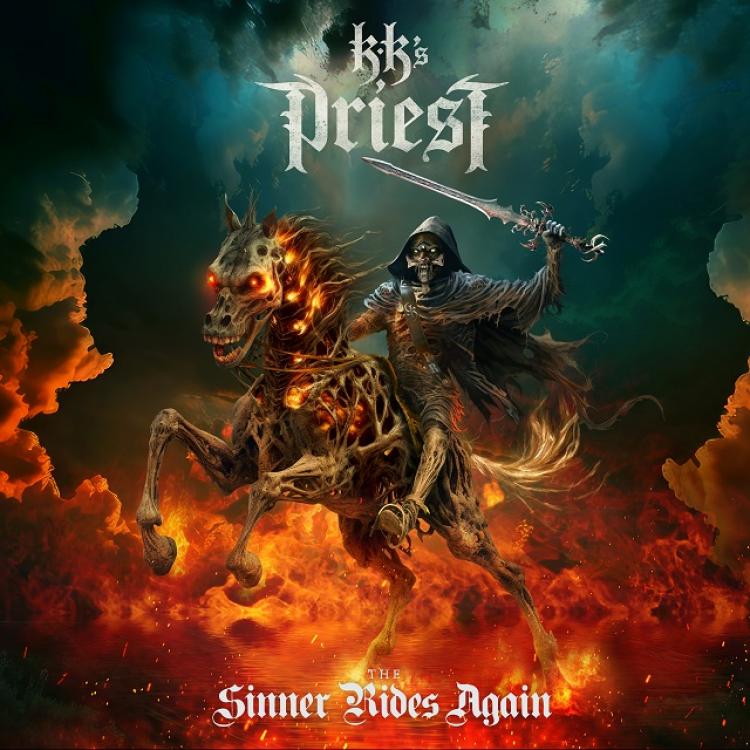 Tracklisting:
Sons Of The Sentinel
Strike Of The Viper
Reap The Whirlwind
One More Shot At Glory
Hymn 66
The Sinner Rides Again
Keeper Of The Graves
Pledge Your Souls
Wash Away Your Sins
KK's Priest is:
Tim "Ripper" Owens - Vocals
K.K. Downing - Guitar
A.J. Mills - Guitar
Tony Newton - Bass
Sean Elg - Drums