METAL CHURCH STREAMING NEW SONG "MAKING MONSTERS"
METAL CHURCH STREAMING NEW SONG "MAKING MONSTERS"
West coast thrash metal veterans, Metal Church, will release their 13th studio album, Congregation Of Annihilation, on May 26 via Rat Pak Records (America) and Reaper Entertainment (Europe). Pre-order here.
The new track, "Making Monsters", puts the musicianship of new vocalist Marc Lopes, founding guitarist Kurdt Vanderhoof, guitarist Rick Van Zandt, bassist Steve Unger and drummer Stet Howland on full display in 2023. "Making Monsters" is available via all digital service providers and a static visualizer for the new song can be seen below.
About "Making Monsters," Kurdt Vanderhoof comments: "Keeping with the Metal Church tradition of combining the heavy and aggressive sound of thrash metal while injecting a good dose of melody and hooks, 'Making Monsters' is a track that showcases what we have done for over 30 years. It has the comfort of old school Metal Church while showcasing how our signature sound has evolved. The band is firing on all cylinders."
Marc Lopes adds: "Just a dark, creepy, heavy ass driving tune that is lyrically based from the book Making Monsters: The Uncanny Power of Dehumanization by David Livingstone Smith - a truly terrifying read. It's based on actual real-life research. The dehumanizing of others that transforms them into something so terrifying that they must be destroyed. Deep, philosophical and psychological stuff here, just another day in my train of thought."
Congregation Of Annihilation features nine all new tracks from Metal Church and continues to build upon their iconic sound the band established over three decades ago. Infused with intelligent lyrical content, thundering guitar riffs, and Marc's aggressive soaring vocals, Congregation Of Annihilation furthers the bands sonic evolution up to the next level and is guaranteed to enthrall metal music fans around the world.
From the first guitar riff of album opener "Another Judgement Day" through the driving outro of album closer "All That We Destroy," it is clear Metal Church is back and better than ever. "Congregation Of Annihilation," "Children Of The Lie"  and "These Violent Thrills" showcase the sonically charged songwriting that made the early Metal Church albums such fan favorites.
Haunting musical opuses "Me the Nothing" and "Making Monsters" each puts the musicianship that Metal Church was known for on full display in 2023. The album also features two bonus tracks: "My Favorite Sin" and "Salvation".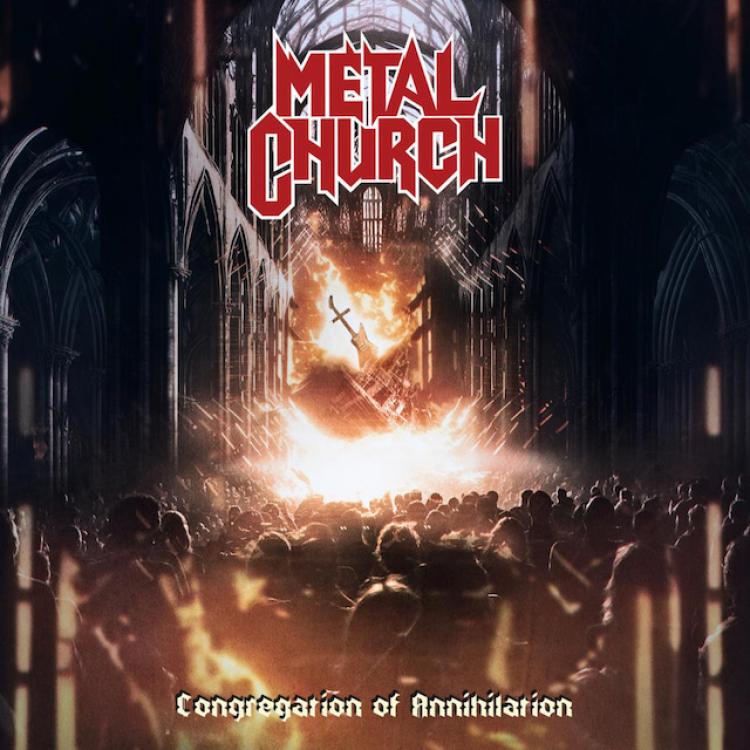 Congregation Of Annihilation tracklisting:
Another Judgement Day
Congregation Of Annihilation
Pick A God And Prey
Children Of The Lie
Me The Nothing
Making Monsters
Say A Prayer With 7 Bullets
These Violent Thrills
All That We Destroy
My Favorite Sin (Bonus Track)
Salvation (Bonus Track)
Born out of the West Coast Metal scene of the 80's, Metal Church quickly became one of the standout talents of the genre. After signing a deal with Elektra records, they released two critically acclaimed albums, their self-titled release Metal Church and The Dark. With the heavy metal scene starting to rise in the US, Metal Church set out on a very successful tour with label mates Metallica. They tackled political and social issues of the day with the releases of Blessing In Disguise and The Human Factor with vocalist Mike Howe.
At a time when heavy metal bands moved from the underground and became part of the hair band/pop fad, Metal Church stayed true to their roots. In March of 2016, Metal Church reunited with Mike Howe and released their eleventh studio album XI that reached #57 on the Billboard Top 200 and landed on several other charts around the globe. Metal Church's next studio album Damned If You Do was the follow up to XI and landed on numerous charts around the globe in 2018. Now with Marc Lopes taking over vocal duties, Metal Church is ready to start a new chapter in their impressive canon with Congregation Of Annihilation.