ADRIAN VANDENBERG SAYS STEVE VAI APOLOGIZED TO HIM FOR HIS BEHAVIOUR IN WHITESNAKE, SAID "MY EGO WAS A LITTLE INFLATED"
ADRIAN VANDENBERG SAYS STEVE VAI APOLOGIZED TO HIM FOR HIS BEHAVIOUR IN WHITESNAKE, SAID "MY EGO WAS A LITTLE INFLATED"
Following on from Steve Vai's admission that he was "a bit of a prima donna" during his stint in Whitesnake in a story that made the news last week, Adrian Vandenberg has revealed that his one time six-string partner apologized to him for his behaviour during their tenure in David Coverdale's rock behemoths. Vandenberg made the revelation during a chat with eonmusic about Vandenberg's new album, Sin.
Vai joined Whitesnake in time for 1989's Slip Of The Tongue, an album co-written by Vandenberg, and although the Dutch guitarist didn't feature on the album, he rejoined the band for its subsequent touring cycle.
Speaking to eonmusic about their musical partnership, Adrian said; "Steve and I became really good friends pretty much instantly. I think it worked really well between Steve and I because I thought it sounded so different."
Going on to talk about their differences as players, Vandenberg continued; "I'm a very melodic player, that's always been my passion, and Steve, especially in that period, was very flashy, because he felt he had to prove himself more. That's what he told me later."
Going on to reveal that Vai had apologized for what he himself last week described as 'prima donna' behaviour, Vandenberg said; "Steve later on said, 'man, I have to say, you know, at the time, my ego was a little inflated', and he kind of apologized for it. He said; 'you know, I was just getting carried away by that period of time where everybody was going; "Oh! Steve Vai!'"
Admitting that it was tough to not get to play on the Slip Of The Tongue album, the guitarist was philosophical; "As frustrating as it was that I wasn't able to play on my own songs because of this wrist injury, at the same time, I thought; 'well, in a way, it's kind of cool that a player of Steve's calibre plays on the songs'."
Adrian also discussed how he almost joined Thin Lizzy, the new album, and how he records his solos. Read more at eonmusic.co.uk.
Vandenberg and Mascot Records / Mascot Label Group will release the band's upcoming studio album, Sin, on August 25. Pre-order the album here.
Every album paints a picture. Instead of utilizing a brush and canvas, Vandenberg paints with towering vocals, earthquaking rhythms, and the iconic and instantly recognizable fretwork of guitarist and namesake, Adrian Vandenberg. Joined by vocalist Mats Levén, drummer Koen Herfst, and bassist Randy van der Elsen, the influential axe-slinger delivers a vibrant, visceral, and vital vision on the group's fifth full-length offering, Sin, brought to life in broad strokes of anthemic hard rock and airtight metal and produced by Bob Marlette (Ozzy Osbourne, Alice Cooper, Rob Zombie).
"For me, music is very much like a painting," affirms Adrian. "You have your ups, downs, lights, and shades. One song might make you want to jump on the table and party your brains out. Another song will inspire you to think. Either way, you're thrown into a landscape, which my favorite albums still do to me. You could be in your car or at home with your headphones plugged into a soundsystem, and you're in a different world."
Exploding out of The Netherlands and onto the global scene with 1982's self-titled Vandenberg, the Dutch phenomenon notched an international hit in the form of "Burning Heart," paving the way for seminal releases such as Heading For A Storm [1983] and Alibi [1985]. The band canvased the United States, Europe, and Japan alongside Ozzy Osbourne, KISS, Rush, Scorpions, Michael Schenker, and many others. Sought out to join Whitesnake, Adrian famously ripped the legendary lead on the 1987 recording of the #1 smash "Here I Go Again," which adorned the 8x-platinum Whitesnake and ended up touring the world's largest arenas for a year-and-a-half when the 1987 album went through the roof in terms of sales. He co-wrote the entirety of 1989's platinum Slip of the Tongue and spent the ensuing tour sharing axe duties with none other than Steve Vai. In addition to playing guitar on and cowriting Restless Heart from David Coverdale & Whitesnake, he performed hundreds of shows as part of the band for some twelve years. Speaking to the breadth of his output, he notably penned and recorded "A Number One" as the theme for his hometown Dutch football team FC Twente. 2013 saw him launch the acclaimed Vandenberg's MoonKings, releasing MoonKings [2014], MK II [2017], and Rugged and Unplugged [2018].
Vandenberg as a band roared back to life with the comeback LP, 2020. Among many highlights, "Freight Train" gathered 1.6 million Spotify streams, while the record attracted praise. In its wake, Vandenberg welcomed Mats [Trans-Siberian Orchestra, Yngwie Malmsteen] to the fold.
"He's an amazing singer," notes Adrian. "I'd heard him online, and we got in touch. It's funny because his mom brought the first two Vandenberg records back to Scandinavia from England when he was in his early twenties—and he was a fan. He's a workaholic like me. We picked up after COVID and put the new album together. The spark is definitely there. On top of that, Koen and Randy lay down the most solid concrete, grooving foundation that I could ever wish for. I'd say it's one notch heavier than 2020," he smiles.
Recorded in Holland and Los Angeles with Marlette, Sin represents a natural evolution for Vandenberg. Scorching pinch harmonics light up the first single "House On Fire" as the groove underlines a chantable chorus from Mats.  "In one way, it's a party song, because it keeps you tapping your foot," Adrian exclaims. "Mats added a different darker twist with his lyrics. It also envisions a person who's frustrated about the things other people have. This person can't control their anger and sets the place on fire."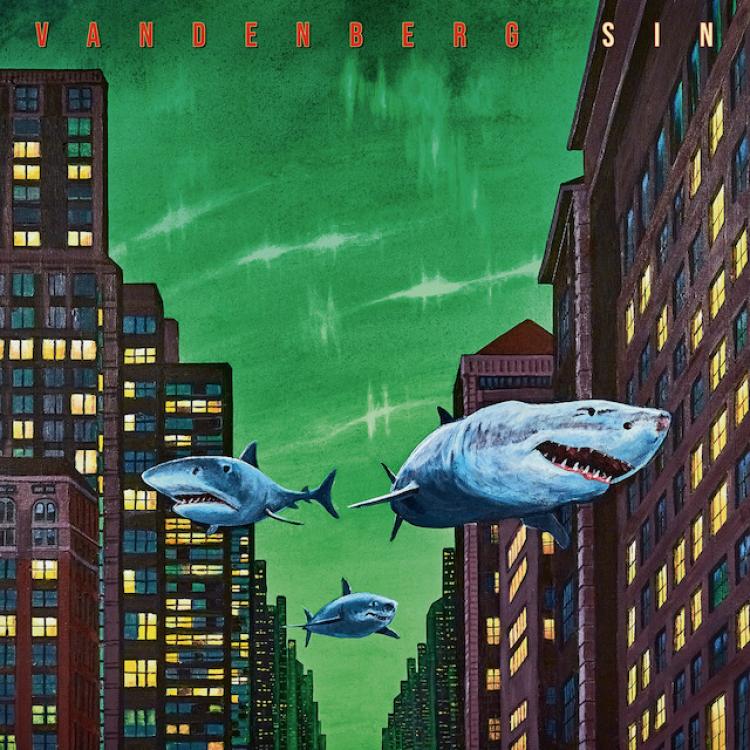 Tracklisting:
Thunder And Lightning
House On Fire
Sin
Light It Up
Walking On Water
Burning Skies
Hit The Ground Running
Baby You've Changed
Out Of The Shadows