BLESSED CURSE PREMIER OFFICIAL MUSIC VIDEO FOR NEW SINGLE "SUBSPECIES"
BLESSED CURSE PREMIER OFFICIAL MUSIC VIDEO FOR NEW SINGLE "SUBSPECIES"
Blessed Curse are excited to present the music video for "Subspecies", the next sample of the Nor Cal group's next album. Filmed by Kenji Tsunami at Tsunami Films (Hatchet, Tegmentum) the band's first music perfectly captures the trio's venomous thrash metal perfectly as the band rip and shred through a classic performance-based breakdown of the track.
"It's been a long time coming but we could not be prouder to have our first official music video in the books. The process was smooth and straightforward working with Kenji Tsunami - we got on stage and rocked out for 3 hours. The end result was exactly what we were going for and felt right for this project and song," explains drummer Derek Bean. "While we were new to the music video process, we utilized some insights picked up here and there to be as prepared for the video shoot by simulating the playback setup in a rehearsal room in Sacramento the week prior.  That definitely helped."
"'Subspecies' is one of our more groove-oriented songs with a heavy emphasis on the backbeat providing a solid pulse to the riffs.  Being a different feel than the other songs on the album thanks to the triplet-based grooves, there is almost a more solid link to older BC material which utilized a similar approach.  This, along with the subterranean bloodthirsty creature story, the song serves as a great choice for our first official music video.  There is a definite contrast to the first single 'Throne of Bones' which is bludgeoning sonically compared to 'Subspecies.'  Intended to be this way, there is a lot of ground covered with both of these songs which represent what BC is about pretty thoroughly."
Vocalist/guitarist Tyler Satterlee adds, "'Subspecies' is about the idea that when daylight falls, evil crawls out... In this case evil comes in the form of creatures that live in underground caves and as the sun descends, awaken to hunt children in local villages for the sole purpose of eating them alive before the sun rises."
"Shooting our first official music video for 'Subspecies' in Oakland, CA was an eye-opening experience from the moment we loaded in our gear onto the soundstage! From camera angles, to lighting, to 'acting' and miming to the song, to previewing takes, everything was brand new to us but also very fun," furthers Tyler. "Once editing was being finalized, seeing ourselves in an actual music video format was a dream come true after so many years waiting to do a video. We couldn't be any happier with the end result hope all the headbangers out there enjoy it too, cheers!"
"Subspecies" follows up the "Throne of Bones" and "Street Freaks" lyric videos, both created by Raf Orteaga at Ecliptic Visions (Ayreon, The Absence, Hecate Enthroned)
All three digital singles (available at all streaming and download platforms) are from the new full-length, Pray For Armageddon, to be released on Friday the 13th of October. Anticipated because it's been six long years since Blessed Curse released the Beware Of The Night EP, and 11 since the group's full-length self-titled debut. Productivity and output haven't been the band's forte, but their core metal belief and dedication are and the band has played all over Northern California plying their trade and fans continue to support and anxiously await more new music.
Pray For Armageddon is available for pre-order featuring ten new songs for release on CD, Digital, and for the first time the band's music on vinyl with 300 transparent orange copies being pressed. Pre-order here.
Pray For Armageddon was produced by the band and recorded, mixed and mastered by Joe Johnston at Sacramento's Pus Cavern Studios (Will Haven, Silversun Pickups, Dance Gavin Dance) and once again features the cover art of Marc Sasso (Dio, Morbid Angel, Halford).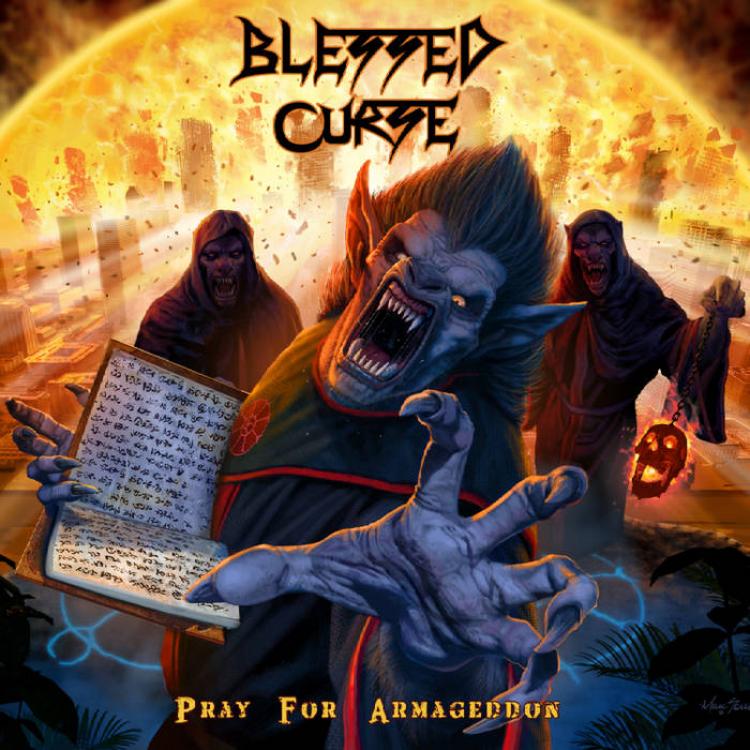 Tracklisting:
Pray For Armageddon
Beheader
Subspecies
Lock Me Up
Skinned Alive
Street Freaks
Into The Dark
Aftermath
Graveyard World
Throne Of Bones