HAMMERFALL - RENEGADE 2.0 INTERVIEW: "RENEGADE" (VIDEO)
HAMMERFALL - RENEGADE 2.0 INTERVIEW: "RENEGADE" (VIDEO)
21 years ago, the Swedish heavy metal powerhouse, HammerFall, travelled to Nashville to record their third album with legendary producer Michael Wagner, leaving the safe space that was Studio Fredman in Göteborg. Fredrik Nordström had recorded the two previous records, so naturally that was a huge change for the band. The Wagner experience and the Renegade album turned out great, as we all know today. For this anniversary edition, the band felt that they needed to close the circle and have Fredrik remix the Renegade album.
The result is Renegade 2.0 which will be released via Nuclear Blast Records on November 12 in many beautiful formats and with a brand new album artwork made by famous cover artist Andreas Marshall, which makes every HammerFall fan heart beats faster.
In this new video, Oscar and Joacim talks about the origins of the song "Renegade":
Fast-paced and in your face, yet epic and melodic. The title track of the band's legendary break-through album, Renegade, meant the beginning of a new era for HammerFall,  as well as for the metal world as a whole, and is to this day a true classic of the genre.
Recently unleashed is the remixed version of this undeniable heavy metal anthem, along with the original cut from Wacken Open Air 2001, which brings back wistful memories.
Listen to the newly remixed version here, and below. Watch the original Wacken 2001 cut below.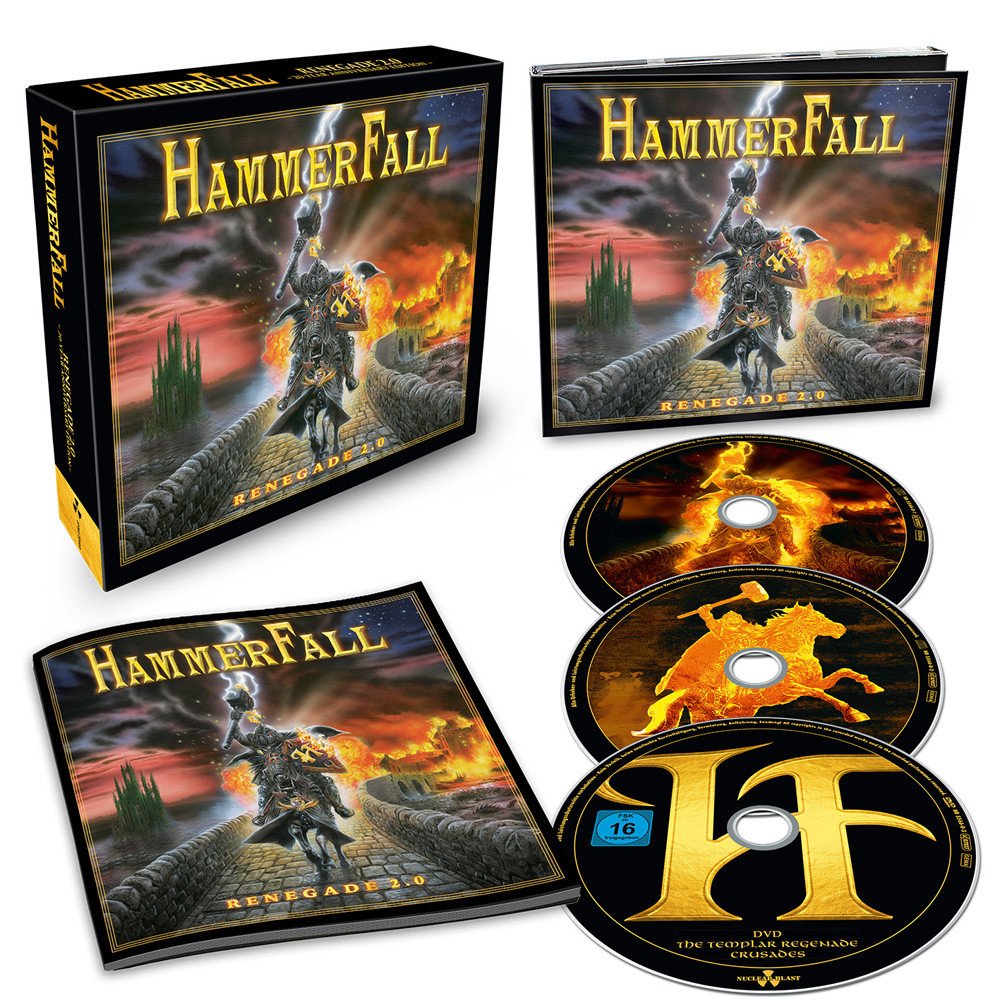 2 CD + DVD – box incl. 60-page booklet
Vinyl 3 LP box , marbeled in grey, white and black incl. 24-page booklet
Vinyl 3 LP box in solid gold incl. 24-page booklet
Vinyl 1 LP gatefold in transparent yellow
Vinyl 1 LP gatefold in splatter red and yellow
Vinyl 1 LP gatefold solid blue
Vinyl 1 LP gatefold transparent clear
Tracklist:
Disc 1 (The 2020 Remix)
CD, VINYL, DIGITAL
01. Templars Of Steel
02. Keep The Flame Burning
03. Renegade
04. Living In Victory
05. Always Will Be
06. The Way Of The Warrior
07. Destined For Glory
08. The Champion
09. Raise The Hammer
10. A Legend Reborn
Disc 2 (The Original Album & Bonus Tracks)
VINYL AS BONUS LP IN BOXSET ONLY
01. Templars Of Steel
02. Keep The Flame Burning
03. Renegade
04. Living In Victory
05. Always Will Be
06. The Way Of The Warrior
07. Destined For Glory
08. The Champion
09. Raise The Hammer
10. A Legend Reborn
BONUS TRACKS
11. Run With The Devil
From Renegade Single
12. Head Over Heels
13. Templars Of Steel
From The Templar Renegade Crusades EP
14. Let The Hammer Fall
15. Renegade
16. Hammerfall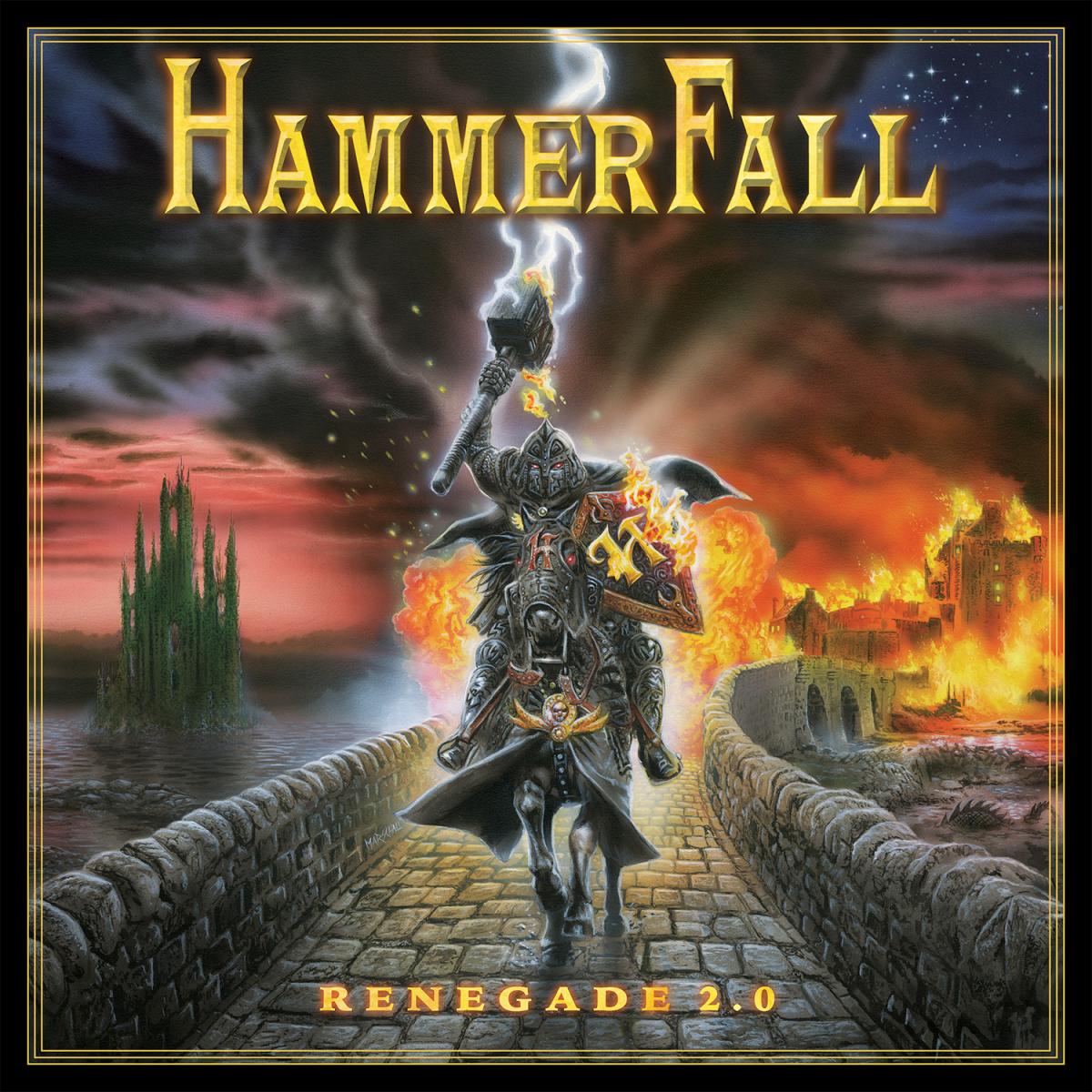 Disc 3 (The Templar Renegade Crusades DVD)
CD/DVD ONLY
01. I Want Out (Video Montage from Hansen Studios)
02. Unchained (Live in Switzerland)
03. Legacy of Kings (Live in U.S.A.)
04. Remember Yesterday (Live in Japan)
05. Warriors Of Faith (Live in Chile)
06. Let The Hammer Fall (Live in Sweden)
07. I Believe (Live in Sweden)
08. Breaking The Law (Video Montage)
09. WireWorld Studios (The Making of "Renegade")
10. Renegade (Video Clip)
11. Always Will Be (Video Clip)
12. Raise The Hammer (Live in Switzerland)
13. Stronger Than All (Live in Chile)
14. Templars Of Steel (Live in Germany)
15. Let The Hammer Fall (Live in Germany)
16. Renegade (Live in Germany)
17. HammerFall (Live in Germany)
18. Heeding The Call (Live in Sweden, Acoustic Version)
19. Gold Album Party
20. A Legend Reborn (Video Montage)
21. Renegade (Live)
22. Slaktmora
23. Castle Garden
24. Bed-Lam
25. Making of "Renegade