HOLY MOSES UNLEASH NEW SINGLE / VIDEO "CULT OF THE MACHINE"
HOLY MOSES UNLEASH NEW SINGLE / VIDEO "CULT OF THE MACHINE"
2023 will mark the final chapter in the long history of Germany's legendary thrash metal act, Holy Moses, celebrated with the bands upcoming new studio album Invisible Queen (available April 14) and a last run of live shows.
Today, the band releases their new single and video clip for the song "Cult Of The Machine".
Sabina Classen: "The song alludes to The New Machine of Liechtenstein. A fanatical cult has formed around the machine, which is now finally being smashed and destroyed in order to bring humanity out of the darkness again."
Download or stream the single via digital platforms found here. Check out the official video below.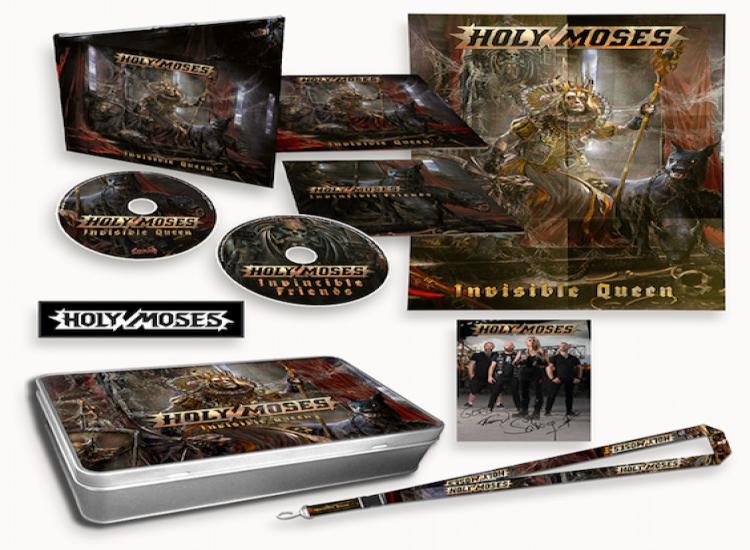 Holy Moses have kicked off the pre-sale for the album, which will be released on the following formats:
- 1CD Jewelcase
- 2CD Digipak incl. 12-Track Bonus CD "Invincible Friends"
- 1LP in red/black marbled (lt. 500 pieces) and white/black marbled (ltd. 500 pieces)
- Digital
At the Atomic Fire Records webshop you can get a strictly limited (200 pieces) boxset including the 2CD digipak, a flag with the cover art, logo-patch, lanyard and a signed foto-card by all members. Get your version here:
On the CD bonus album, Invincible Friends, you get all album tracks in special versions, featuring various well-known guest singers.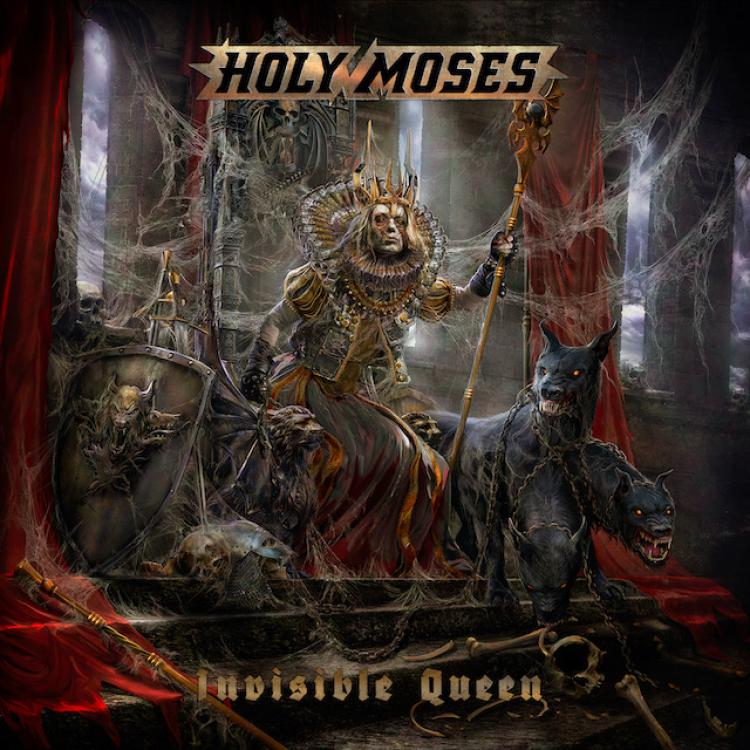 Tracklisting (bonus album guests in brackets):
"Downfall Of Mankind" (Feat. Marloes Voskuil – Haliphron)
"Cult Of The Machine" (Feat. Bobby Ellsworth – Overkill)
"Order Out Of Chaos" (Feat. Diva Satanica – ex-Nervosa / Bloodhunter)
"Invisible Queen" (Feat. Ingo Bajonczak – Assassin / Bonded)
"Alternative Reality" (Feat. Tom Angelripper – Sodom)
"The New Norm" (Feat. Chris Staubach – Courageous)
"Visions In Red" (Feat. Rægina – Dæmonesq)
"Outcasts" (Feat. Leif Jensen – Dew-Scented)
"Forces Great And Hidden" (Feat. Gerre – Tankard)
"Too Far Gone" (Feat. Jens Kidman – Meshuggah)
"Depersonalized" (Feat. Daniela Karrer – Headshot)
"Through The Veils Of Sleep" (Feat. Ryker's)