MIDNIGHT - POSTHUMOUS COVERS ALBUM FROM FROMER CRIMSON GLORY VOCALIST AVAILABLE IN SEPTEMBER
MIDNIGHT - POSTHUMOUS COVERS ALBUM FROM FROMER CRIMSON GLORY VOCALIST AVAILABLE IN SEPTEMBER
Conquest Music Inc has opened the vaults and will release the posthumous covers album from former Crimson Glory vocalist, Midnight, on September 15, available through the Conquest Music website.
The 12-song collection, entitled Through Oceans Of Space, will be available on vinyl in two color options (green with slight swirl and clear with red splatter), as well as a special silver press CD box configuration.
Created between 2007 and 2009, the recording was produced by Lee Harrison (Monstrosity) and Midnight. Mastering was handled at the world famous Morrisound Recording in Tampa, Florida with Jim Morris. Music on the disc features classic gems which were Midnight favorites as well as fan suggestions. Performances were mostly by Harrison and Midnight, guitarist Matt Laporte is also featured on several tracks along with other guest musicians.
Midnight began his storied career in the mid 80's with progressive metal titans Crimson Glory, recording and touring with the outfit until the group parted ways in 1991. After a self imposed exile, Midnight came back to the music world in 2001 with an acoustic recording "M" and followed with a full length called "Sakada" in 2005. In 2007, Midnight began a new collaboration with the aforementioned Harrison and LaPorte and started work on a discography of material, including this collection. Unfortunately in 2009, Midnight passed away along with LaPorte passing not long after in 2011. The fruits of their alliance can be heard on the original 3CD set, Descending Into Madness, released in 2014 through the Conquest Music website.
Now on September 15, Conquest Music unveils the unreleased covers album, Through Oceans Of Space.
Lee Harrison had this to say regarding the release: "I was hoping to have this work finished sooner but I wanted it to be just right and finally all the pieces of the puzzle are complete. I wish Midnight and Matt LaPorte were here to see and hear the finished product, but I know they would be glad that it is finally available for the fans to have in their hands. The plan was to have this out two years ago but several issues made it impossible. There were manufacturing issues and rights issues to be cleared, but its done, and it really turned out stellar. Now I have all the product in house and ready to go for release day."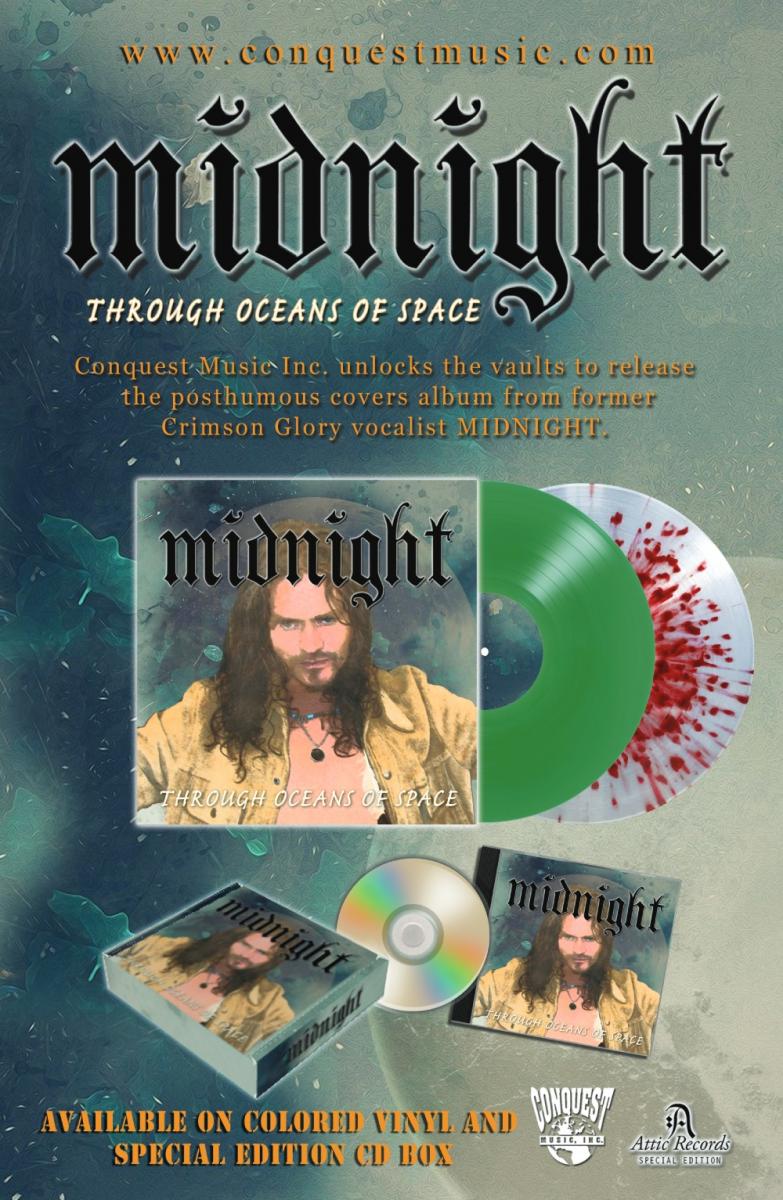 Tracklisting:
Going To California
Coming Home
The Mob Rules
Sleeping In The Fire
The Thin Ice
The Battle Of Evermore
When The Levee Breaks
Possession
Lightning Crashes
Hey There, Delilah
One
Angel