NIGHT DEMON TO RELEASE OUTSIDER CONCEPT ALBUM IN MAY; TITLE TRACK MUSIC VIDEO POSTED; US TOUR CONFIRMED
NIGHT DEMON TO RELEASE OUTSIDER CONCEPT ALBUM IN MAY; TITLE TRACK MUSIC VIDEO POSTED; US TOUR CONFIRMED
On March 17, Ventura, California's heavy metal institution, Night Demon, return with their third full-length, Outsider, via Century Media Records. For a first preview of Outsider, the album's title track can be streamed here; the video (directed by Oliver Barth) can be viewed below.
Regarding Outsider, Jarvis Leatherby (vocals, bass) recently commented as follows: "Most bands will always tell you that their newest album is the best... I completely understand why bands say that sort of thing, and I do agree that if you're not pushing yourself to be better on the next release, then you should just quit. However, I think it's up to the listener to ultimately decide this, and it's all subjective. Outsider is by far the most Night Demon has ever extended ourselves, and for that I am so proud and artistically fulfilled."
For more than a decade, Night Demon have defiantly flown the flag of traditional heavy metal, unwavering in the face of shifting industry trends and unscarred by global calamities. With new album Outsider, the band have challenged themselves musically and lyrically, pushing creative boundaries and evolving their sound far beyond their NWOBHM-worshipping origins into something truly singular.
From a lyrical standpoint, Outsider marks Night Demon's first full-blown concept album. To be sure, the band have always experimented with embedding thematic linkages between songs on each release, dating back to their 2015 debut album, Curse Of The Damned. On Outsider, however, lyricist Jarvis Leatherby has dialed into a fully cohesive tale of alternate realities, mysterious portals, and the supernatural, intertwined with universal human feelings of alienation, loss, regret and revenge. Inspired by Leatherby's lifelong affinity for horror movies as well as his pandemic-induced exile in the countryside of Northern Ireland, Outsider weaves a compelling yarn from its pastoral beginnings to its heart-pounding finale.
Of course, this kind of epic storytelling demands an equally expansive musical backdrop that ebbs and flows to convey the full emotional range of Outsider. To achieve that result, Night Demon have reimagined the band's songwriting and arrangements by embracing progressive elements and a newfound sense of dynamics that lend the music a decidedly cinematic quality. Longtime fans should not be alarmed: Outsider sounds like Night Demon through and through, but the songwriting is perhaps the catchiest in the band's discography, boasting massive hooks such as those found on the earworm title track, which is also the lead single. Simply put, Night Demon take the listener on a journey with Outsider. It's a heavy and intense ride, so buckle up. You may never be the same again.
Outsider will be available in the following formats:
- CD Digipak
- Black LP        
- Transparent green LP   
- Coke bottle clear LP available from USA outlets (limited to 500 copies)
- Transparent magenta LP available from CM Distro Wholesale EU and CMdistro.de (limited to 500 copies)
- Transparent sun yellow LP available from EMP, High Roller, Nuclear Blast (limited to 400 copies)
- Digital album
Plus, the following - exclusively from Night Demon:
- Dark green neon-yellow haze LP (limited to 500 copies)
- Cassette w/ green glow (limited to 50 standalone copies)
- Cassette w/ black tint shell (limited to 50 standalone copies)
- Ultimate Bundle with:
* Dark green-neon yellow haze 12" LP
* Green cassette
* Digipak CD
* Outsider t-shirt
* Coffin shaped backpatch
* Party mirror
- CD + t-shirt bundle
- Black 12" LP + T-shirt bundle
Pre-order here.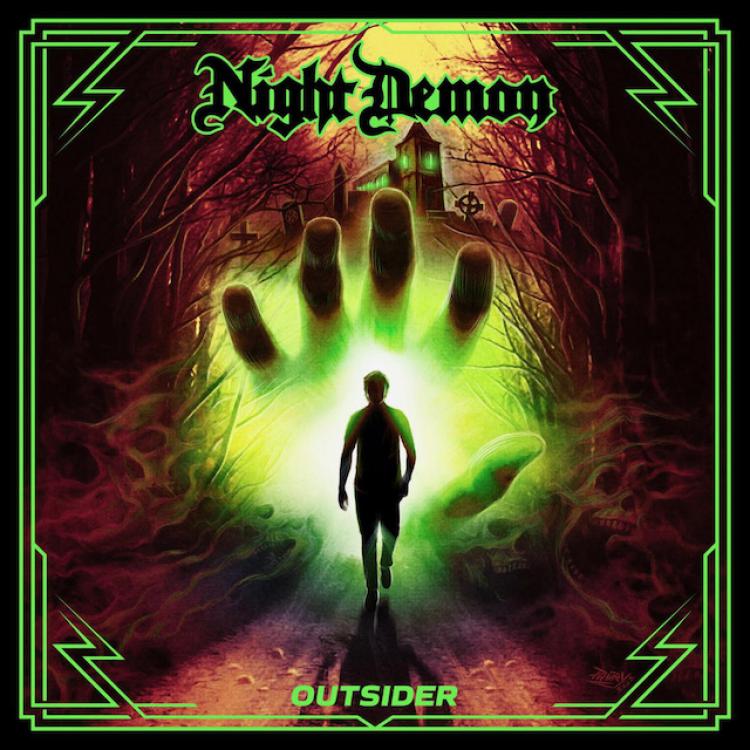 Outsider tracklisting:
"Prelude"
"Outsider"
"Obsidian"
"Beyond The Grave"
"Rebirth"
"Escape From Beyond"
"A Wake"
"The Wrath"
"The Last Day"
Night Demon lineup:
Jarvis Leatherby - Vocals / Bass
Dusty Squires - Drums
Armand John Anthony - Guitars