SLOVAKIA'S ACID FORCE TO RELEASE WORLD TARGETS IN MEGADEATHS ALBUM; "PRAISE THE ATOM" MUSIC VIDEO STREAMING
SLOVAKIA'S ACID FORCE TO RELEASE WORLD TARGETS IN MEGADEATHS ALBUM; "PRAISE THE ATOM" MUSIC VIDEO STREAMING
Jawbreaker Records announce the release of the new album, World Targets In Megadeaths, by Slovakian heavy thrashers, Acid Force.
Following a brief hiatus and several lineup changes, Acid Force has returned stronger than ever. The band, now consisting of Andrej Petro on guitars and vocals, Erik Leško on guitars, Federico Petrík on drums, and Juraj Ondrejmiška on bass, has expanded their sonic palette while staying true to their roots. The resulting album is a heavy load of thrashing metal fury, heavily sprinkled with melody and traditional Heavy Metal vibes, superbly delivered with a punk-metal attitude and need for speed.
Since their formation in 2014, Acid Force have slowly been carving a niche for themselves in the underground metal scene through the Towards The Nuclear Load EP (2015) and debut full length album Atrocity For The Lust (2017). The departure of previous frontman Teodor Majerík in 2019 and the global pandemic could have spelled the band's end, but with guitarist Andrej Petro stepping up to the microphone and the addition of Juraj Ondrejmiška on bass, Acid Force have now risen again, stronger than ever before. The recording process for World Targets In Megadeaths spanned four months of intense dedication to perfecting every detail. Acid Force poured their hearts and souls into each track, meticulously crafting a collection of songs that captures their evolution and growth as musicians. The result was enough to secure them with a record deal with Swedish label Jawbreaker Records.
"What caught my attention on World Targets In Megadeaths," says label boss G.G. Sundin, "is that it is not stuck in the same old grooves that most thrash metal albums coming out nowadays are. Instead Acid Force have created a fresh mix of thrash, speed and traditional heavy metal."
To give a glimpse of what awaits on World Targets In Megadeaths, the first single song, "Praise The Atom", has just been released, accompanied by a professionally recorded music video (see below). The single showcases the band's renewed energy and their ability to blend ferocious riffs, thunderous drums and powerful vocals into a compelling sonic assault. Thrashers and speed freaks alike can expect an explosive and unrelenting musical experience that will leave them hungry for more!
World Targets In Megadeaths will be out on vinyl LP, music cassette, CD, and digitally on November 3.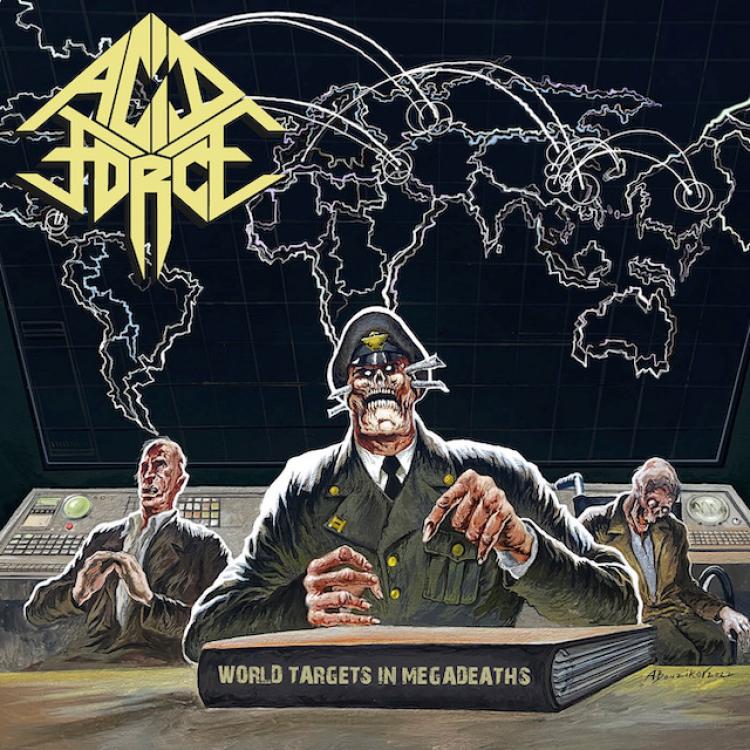 Tracklisting:
Out Of The Trench
Preachers Of Mayhem
Fast Friday
Rebirth Of The Sun
Praise The Atom
Lightning Cops
Beyond The Concrete Fields
World Targets In Megadeaths