STYGIAN FAIR TO RELEASE NEW ALBUM ON AUGUST NEW SONG POSTED
STYGIAN FAIR TO RELEASE NEW ALBUM ON AUGUST NEW SONG POSTED
Sweden's Stygian Fair will be releasing its new studio album entitled "Aradia" on August 25th, 2023, via Rockshots Records. It is the band's fourth full-length and follows "Equilibrium" (2021), "Nadir" (2020), and the debut "Panta Rei" (2018).
Formed originally in Umeå, Sweden, Stygian Fair's new studio album "Aradia" features new vocalist & guitarist Andreas Stoltz (Binary Creed, Hollow) along with Emil Holmqvist (Guitar), Anders Hedman (Bass), and P-O Jonsson (Drums). The music is heavy, pondering, and a unique blend of new and old, heavy epic metal.
"We think the fans will recognize the style of Stygian Fair. There are a lot of strong tracks on the album and it's also very varied", adds the band.
Featuring 10 tracks of assorted AOR melodic metal, this album will touch and transport listeners to a place where melodies, words, and musicianship become emotion and images.
"We rely on good melodies and the rhythm section is, as from the beginning, vital to the band's sound. Now that Andreas is in the band there is more room to play around with the guitar parts, so that might be something different on this album. But we think that old fans won't be disappointed with 'Aradia'"!
"Aradia" is a monument of honest metal. The band has no ambition of jumping aboard any current music fads but does whatever they like and feel works when they play together. There are softer songs and heavier songs, but all of them will convey something to fans, especially those who enjoy Rush, Memento Mori, or Tad Morose.
"'Aradia' is one of those albums you'll return to many, many times. We've made it heavy, metal, and totally honest. There's beauty here, there's sadness, anger, loss, and longing. Things you'll be able to relate to. That's important to Stygian Fair since you're important to us. Why else would we be doing this? We're really pleased with the diversity of the songs: plenty of heavy guitars, drums that propel and persuade, a bass that moves and grooves plus of course singing that speaks to your soul in whispers and screams. We think you'll like it!", adds the band.
The band's first single and title track is now available to hear and is being unveiled with an accompanying music video. Watch the video below.
Stygian Fair comments:
"'Aradia' is based upon a 20-year-old riff and it's great that it finally evolved into a full song. Now it's really a band effort with all members participating with their individual expression. We think 'Aradia' conveys the urgency and mood of a clandestine coven, worshipping the many deities of Mother Nature. With all that's going on with the climate a greater respect for Her is definitely called for".
"Aradia" is due out on August 25th, 2023, via Rockshots Records and is available for pre-order here.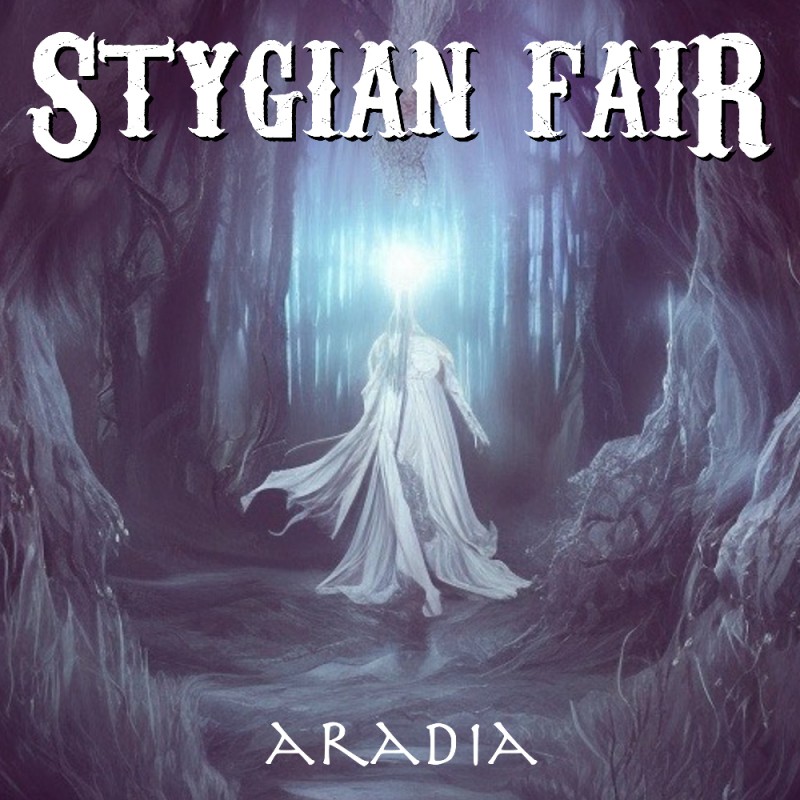 Tracklist:
1. Ancient Lies (4:02)
2. Masters of the Sea (4:06)
3. Aradia (4:57)
4. Tapping of the Vein (3:43)
5. Let It Go (4:02)
6. Panoptikon (3:44)
7. Unto Oblivion (3:40)
8. Grief Collector (5:04)
9. Tainted Dream (3:22)
10. Devil in the Details (4:16)
Stygian Fair is a band from a small town called Umeå in the north of Sweden. The band has existed for about nine years now and it all started when both P-O Jonsson and Emil Holmqvist decided to leave a band called "Crave" to lay the foundations for Stygian Fair. Erik Andersson joined on bass and Andreas Stoltz on lead vocals and guitar. This first incarnation of the band never made a big mark recording or gig-wise… due to life's crooked path.
In the autumn of 2016 Erik left the band, and a few weeks later so did Andreas as well. Soon thereafter the band gathered new momentum by welcoming Anders Hedman as the new powerhouse bass player. After a couple of auditions, Pontus Åkerlund became the new singer and with this setting, the band recorded and launched an EP named "Into the Coven". The band began playing live frequently at different local venues. At the end of August 2018, the band entered the studio again, and in October of the same year came the debut "Panta Rei". In January 2020 came the sophomore album "Nadir" and in April 2021 "Equilibrium".
In September 2021 Pontus Åkerlund decided to leave the band. A few week's search for a new vocalist lead to the return of Andreas Stoltz as lead vocalist and guitar player, after his years in Binary Creed and Hollow. In late 2022 Stygian Fair entered the studio once again, to record ten new powerful songs and with Stygian Fair's trademark strong melodies. It is titled "Aradia" after the witch daughter of Diana, the goddess of the hunt and the moon.
Album Credits:​
All songs and lyrics written by Stygian Fair
Cover art and design by Anders Hedman
The album was recorded and mixed by Nils Johansson at Ballerina Audio, Umeå
Line-up:
Andreas Stoltz: Vocals, Guitar
Emil Holmqvist: Guitar
Anders Hedman: Bass
P-O Jonsson: Drums