W.A.S.P. ANNOUNCE THE 7 SAVAGE: 1984-1992 LIMITED EDITION DELUXE 8LP BOXSET
W.A.S.P. ANNOUNCE THE 7 SAVAGE: 1984-1992 LIMITED EDITION DELUXE 8LP BOXSET
W.A.S.P. announce The 7 Savage: 1984-1992 deluxe 8LP boxset from their 'Capitol Years', with studio album half-speed mastering, LP of bonus tracks, 60 page book, posters and numbered certificate. The 7 Savage: 1984-1992 will be released on October 27 via Madfish, and is strictly limited to 2,000 copies worldwide. Order here.
W.A.S.P. frontman Blackie Lawless comments, "It's great to see this collection of records be re-released with this detail. For the original recordings to have a new light shown on them with expanded notes and additional photography is special for me, and will be for all those that hold these albums in a special place in their hearts and times in their lives."
Their first five studio albums (W.A.S.P., The Last Command, Inside the Electric Circus, The Headless Children, and The Crimson Idol) contributed enough on their own for W.A.S.P. to be considered one of the greatest rock bands of all-time. Those LPs are all presented in this set, mastered half-speed at Air Studios, London for a superior, sharper, more direct and engaging sound.
Packaged within a deluxe red leatherette effect double slipcase, The 7 Savage: 1984-1992 is completed on vinyl with two more LPs: 1987's Live… in The Raw and new compilation Bonus Tracks & B-Sides, featuring the controversial breakthrough anthem, "Animal (F**k Like a Beast)".
Compiled with the full cooperation of Blackie Lawless, the box set also includes a 60-page book with exclusive and rare pictures from legendary metal photographers (including Ross Halfin, Tony Mottram, David Plastik and Paul Natkin), along with extensive liner notes from Amit Sharma (Kerrang!, Planet Rock). Also included is an exclusive Blackie Lawless poster, plus an individually numbered circular saw shaped certificate.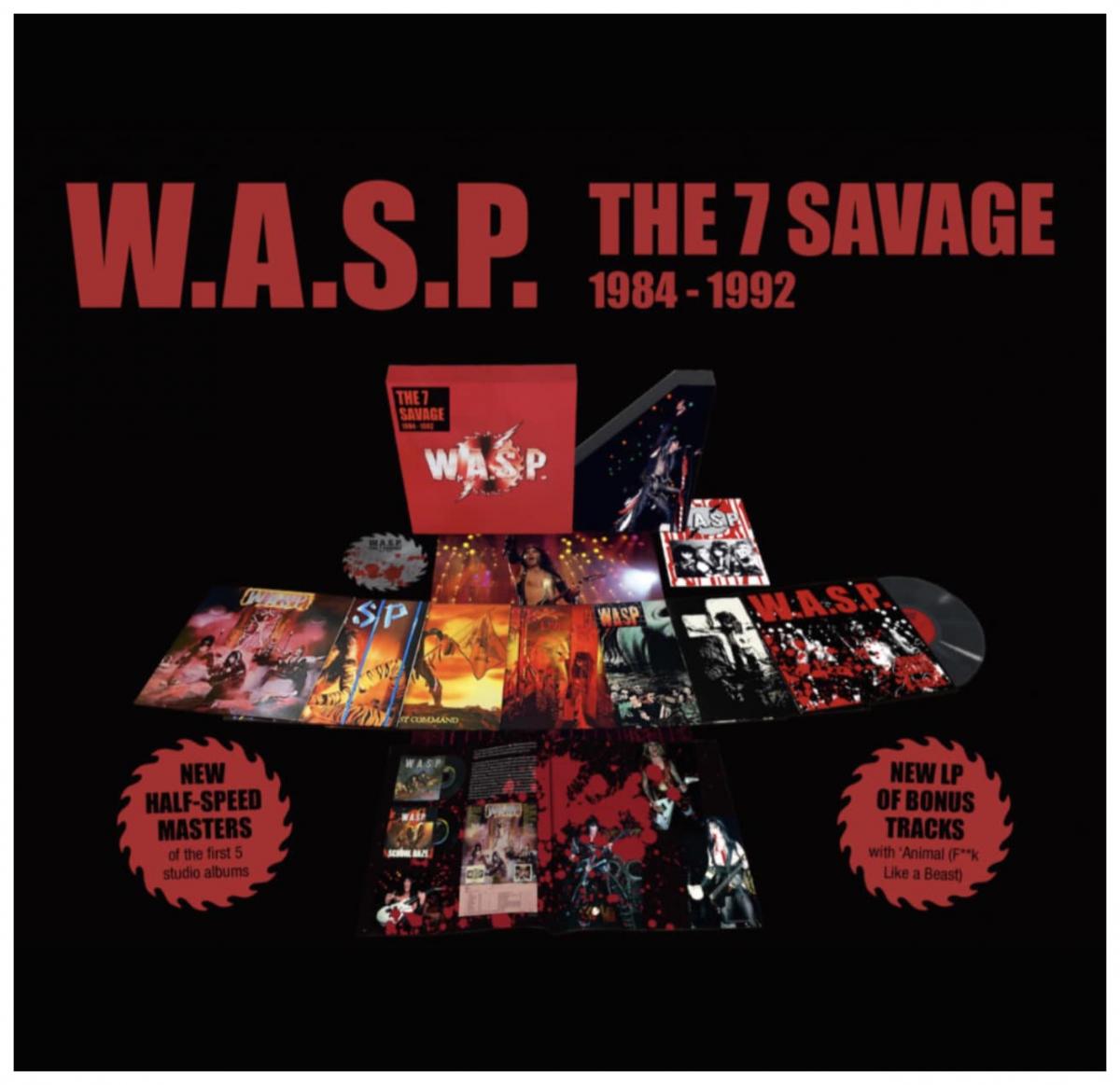 Tracklisting:
Disc 1 - W.A.S.P. (Half-Speed Master)
Side A
I Wanna Be Somebody
L.O.V.E. Machine
The Flame
B.A.D.
School Daze
Side B
Hellion
Sleeping (In The Fire)
On Your Knees
Tormentor
The Torture Never Stops
Disc 2 - The Last Command (Half-Speed Master)
Side A
Wild Child
Ballcrusher
Fistful Of Diamonds
Jack Action
Widowmaker
Side B
Blind In Texas
Cries In The Night
The Last Command
Running Wild In The Streets
Sex Drive
Disc 3 - Inside the Electric Circus (Half-Speed Master)
Side A
The Big Welcome
Inside The Electric Circus
I Don't Need No Doctor
9.5. - N.A.S.T.Y.
Restless Gypsy
Shoot From The Hip
Side B
I'm Alive
Easy Living
Sweet Cheetah
Mantronic
King Of Sodom And Gomorrah
The Rock Rolls On
Disc 4 - The Headless Children (Half-Speed Master)
Side A
The Heretic (The Lost Child)
The Real Me
The Headless Children
Thunderhead
Side B
Mean Man
The Neutron Bomber
Mephisto Waltz
Forever Free
Maneater
Rebel In The F.D.G.
Disc 5 & 6 - The Crimson Idol (Half-Speed Master)
Side A
The Titanic Overture
The Invisible Boy
Arena Of Pleasure
Chainsaw Charlie (Murders In The New Morgue)
Side B
The Gypsy Meets The Boy
Doctor Rockter
I Am One
Side C
The Idol
Hold On To My Heart
The Great Misconceptions Of Me
Side D
The Story Of Jonathan (Prologue To The Crimson Idol)[
Phantoms In The Mirror
The Eulogy
Disc 7 - Live... In The Raw
Side A
Inside The Electric Circus
I Don't Need No Doctor
L.O.V.E. Machine
Wild Child
9.5. - N.A.S.T.Y.
Sleeping (In The Fire)
Side B
The Manimal
I Wanna Be Somebody
Harder Faster
Blind In Texas
Scream Until You Like It" (Theme from Ghoulies II)
Disc 8 - Bonus Tracks & B-Sides
Side A
Animal (F**k Like A Beast)
Show No Mercy
Paint It Black
Savage
Mississippi Queen
Flesh And Fire
D.B. Blues
Side B
Locomotive Breath
For Whom The Bell Tolls
Lake Of Fools
War Cry
When The Levee Breaks
ΑΚΟΥΣΤΕ ΣΕ ΕΠΑΝΑΛΗΨΗ ΤΗΝ ΕΚΠΟΜΠΗ THIS IS HEAVY METAL ΑΦΙΕΡΩΜΑ ΣΤΟΥΣ WASP 
PLAYLIST:
Accept - Feelings
DIO - Faces In The Window
W.A.S.P. - The Heretic
W.A.S.P. - Show No Mercy
W.A.S.P. - On Your Knees
W.A.S.P. - Savage
W.A.S.P. - Flesh And Fire
W.A.S.P. - Wild Child (The Wild Remix)
W.A.S.P. - War Cry
W.A.S.P. - Lake of Fools
W.A.S.P. - The Eulogy
W.A.S.P. - The Idol (Crimson Edit)
W.A.S.P. - Phantoms In The Mirror
W.A.S.P. - Chainsaw Charlie (Murders In The New Morgue) (Sawn Off Version)
W.A.S.P. - Sleeping In The Fire (Demo)
W.A.S.P. - Skin Walker
W.A.S.P. - Revengeance
W.A.S.P. - Loco-Motive Man
W.A.S.P. - What I'll Never Find
W.A.S.P. - Heaven's Hung In Black
W.A.S.P. - Take Me Up
W.A.S.P. - Into The Fire
W.A.S.P. - Babylon's Burning
W.A.S.P. - Crazy
W.A.S.P. - My Wicked Heart
W.A.S.P. - Can't Die Tonight
W.A.S.P. - Charisma