ENFORCED DEBUT MUSIC VIDEO FOR NEW SINGLE "STARVE"
ENFORCED DEBUT MUSIC VIDEO FOR NEW SINGLE "STARVE"
On April 28, Enforced will release their third full-length, War Remains (32 minutes of aggressive, no-frills thrash!), via Century Media Records. For a new preview of the album, the video for the new single, "Starve", can be viewed below.
Vocalist Knox Colby states: "Ultimately, 'Starve' is about being forced to produce when there's no resources to do so, you then become the resource that's produced/harvested. If I'm profitless, then I'm expendable, chaff; but even then I could've still given my life. So the song sketches out the final moments of someone who has given everything they have left to give, and it's still not enough. They starve themselves to death and watch the world they've given everything to save still fall to shit. They give up and go crazy in the end. Their fruitfulness is deemed fruitless; leaving this world in agony; howling to rebel but not the desire to do so. Starved."
"We didn't overthink anything," says Knox Colby, describing the ethic that went into the making of the Richmond, Virginia-based quintet's third album, War Remains. "It's all very straight forward, no bells and whistles production-wise. It's almost ten minutes shorter than our last record and packs ten times more of a punch."
Blazing out of the pandemic, Enforced carved a trail throughout North America and Europe, sharing stages with the likes of Obituary, Municipal Waste and Exhumed as well as festivals like Maryland Deathfest and France's Hellfest. With that bloodied road behind them, Enforced set metallic standard with their power-of-the-riff-wreck-your-neck take on classic thrash and crossover hardcore from the same pissed-off hometown womb that had given the world the likes of GWAR and Lamb of God.
Teaming with Richmond-based producer, Ricky Olson, with mixing help from Arthur Rizk (Power Trip, Kreator), the band delivered on every iota of extreme aggression they've flexed since their inception in 2016. War Remains is the sound of Enforced pushing themselves to the next level: a serrated-edge classic. "It has the intensity of At the Walls (2019) but is more mature than Kill Grid (2021)," Colby explains. "It has that tenacity of us live. It spills through the record. If you're a fan of really aggressive music, you're gonna love it. It's seething!"
War Remains is available for pre-order in various formats, here.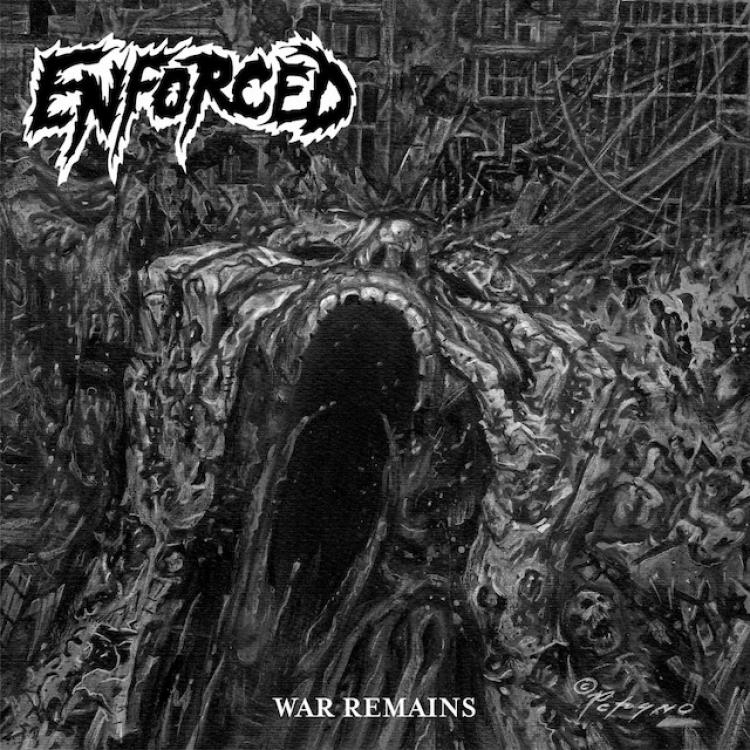 War Remains tracklisting:
"Aggressive Menace"
"The Quickening"
"Hanged By My Hand"
"Avarice"
"War Remains"
"Mercy Killing Fields"
"Nation Of Fear"
"Ultra-Violence"
"Starve"
"Empire"
Lineup:
Knox Colby - Vocals
Will Wagstaff - Guitars
Zach Monahan - Guitars
Ethan Gensurowsky - Bass
Alex Bishop - Drums