NIGHT LEGION FEAT. DUNGEON, DEATH DEALER MEMBERS RELEASE "SOARING INTO THE BLACK" LYRIC VIDEO
NIGHT LEGION FEAT. DUNGEON, DEATH DEALER MEMBERS RELEASE "SOARING INTO THE BLACK" LYRIC VIDEO
Australian heavy metal force, Night Legion, recently announced the release of their sophomore studio album, entitled Fight Or Fall. The album will be out on June 30, 2023 via Massacre Records.
Following the previously-released, first album appetizer, "The Hounds Of Baskerville", today, the band has unleashed a lyric video for their brand new single "Soaring Into The Black".
"This song is inspired by the world's dark journey throughout history," the band comments. "It's being led on the dark path, the fight for power, control & technology – the end result can only mean one thing = non-existence, destruction, war with ourselves and mother nature.
"It's a reference that we've not looked back further enough hence never learning from mistakes. The damage done essentially will echo through the ages for all generations to see. In summary: We are essentially destined to crash and burn, hence soaring into the black."
With "Soaring Into The Black", Night Legion presents another big bold track with massive hooks and guitar wizardry. The song itself musically gives an uplifting feel which will resonate with the listener and immediately proves, the band's forthcoming offering, Fight Or Fall, is a no-nonsense return to fast and powerful heavy metal with screaming vocals, crushing guitars and hooks that remind you what great songwriting sounds like. This record won't be a happy walk through a forest of elves - this is the battlefield where metal lives and soaring vocals invoke the spirits of what made metal the force it is today.
Fight Or Fall was produced by Night Legion guitarist Stu Marshall, and was mixed and mastered by Chris Themelco at Monolith Studios. Preorder here.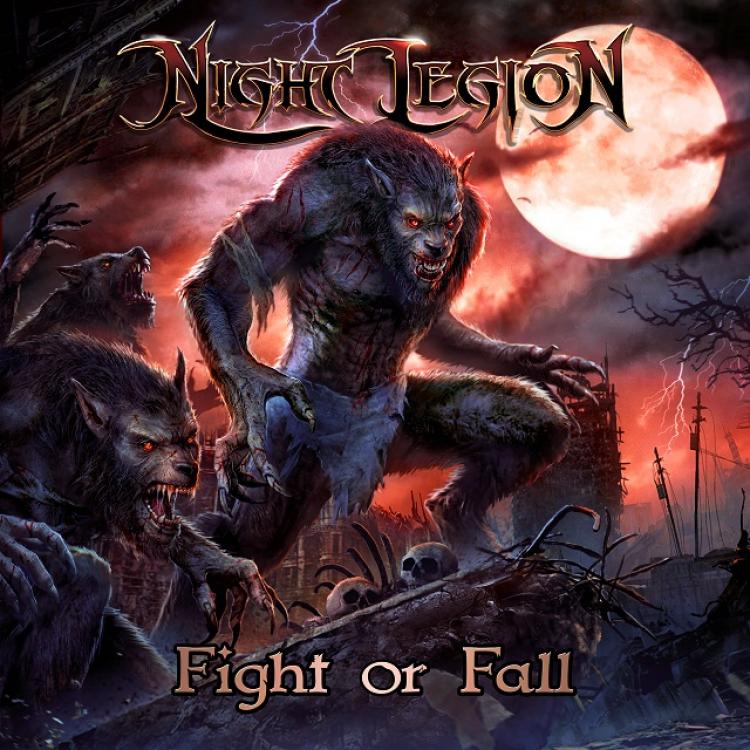 Tracklisting:
The Hounds Of Baskerville
Babylon Burns
Soaring Into The Black
Fight Or Fall
At World's End
Beyond The Crimson Dawn
Harvest Of Sin
The Enemy
The Hand Of Death
Night Legion is:
Louie Gorgievski – Vocals 
Stu Marshall – Guitars 
Col Higginson – Guitars 
Glenn Williams – Bass 
Clay Tchakalian – Drums
Guest Musician:
Mike LePond (Symphony X, Death Dealer): Bass guitar on "The Hounds Of Baskerville"