NIGHTRAGE PREMIER OFFICIAL MUSIC VIDEO FOR "ABYSS RISING"
NIGHTRAGE PREMIER OFFICIAL MUSIC VIDEO FOR "ABYSS RISING"
In 2021, the Greek/Swedish melodic death metal stars Nightrage return with the final part in their trilogy of albums (The Venomous, Wolf To Man) and now complete with their upcoming album, Abyss Rising.
An album that is the band's vision of mankind living in its own hell - a hell it has created through the destruction of the planet. Inspired in part by Dante's Inferno, the album explores man's continual destruction of the world we live in until the abyss opens up to consume all before it.
The abyss has risen from the depths, and hell has now turned outside in to be able to rise to earth to claim us. The album captures Nightrage in a spectacular form; incisive, brutal, uncompromising, and unforgettable. Musically the band have embraced a harder, faster, and brutal approach, still rich in melodic intent but characteristically heavy and aggressive. Mixed and mastered by Fredrik Nordstrom at Studio Fredman (Architects, In Flames, Opeth, etc.), Abyss Rising is a formidable sonic masterpiece. The album will be released on February 18 via Despotz Records.
"Abyss Rising" was the first single and title track of the album. This song is all about how we as humans already are living in our own hell and expresses Nightrage's vision where mankind has finally reached their own hell on Earth. Nightrage now release the music video for "Abyss Rising", which can be viewed below.
Marios Iliopoulos about the single: "'Abyss Rising' is one of the last songs that we have written for the new album me and Magnus, and we wanted to create a fast song with really strong melodies and catchy riffs. I feel we have really great chemistry when we sit down and write new songs together, plus with the addition of Ronnie he did some really great vocals that lifted the song a lot, especially on the chorus he added a lot of layers of clean vox harmonies that gives the song another dimension! We are blown away from the amazing art that Jon Tousas did from Graphic No Jutsu, you see 7 arrows that symbolizes the 7 deadly sins that is killing the 3 birds of innocence, so that shows us clearly the downfall of the humankind and the rising of the unfortunate Abyss. Beware Of The Abyss!"
Pre-order the new album here.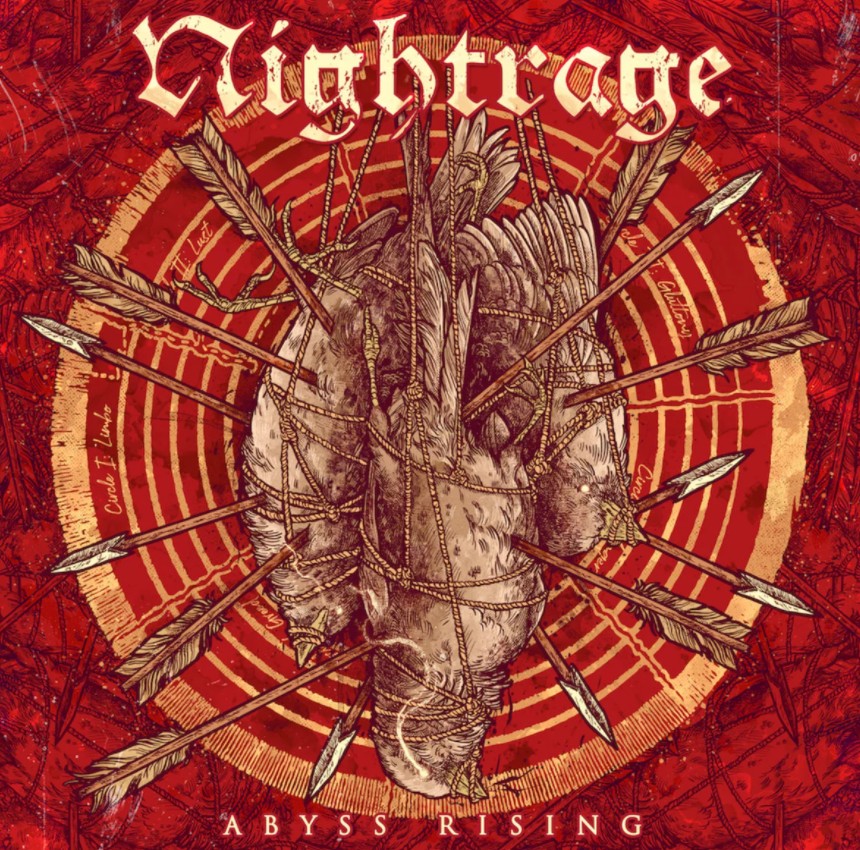 Tracklisting:
"Abyss Rising"
"Swallow Me"
"Nauseating Oblivion"
"Dance Of Cerberus"
"Falsifying Life"
"Portal Of Dismay" (Interlude)
"Shadows Embrace Me"
"9th Circle Of Hell"
"The Divergent" (Instrumental)
"Cursed By The Gift Of Sight"
"False Gods"
"Pest Ridden Tide"
"Silence Of The Darkened Soul"