DEUS VULT "LOOK UPON YOUR MASTER: THE DEMO ANTHOLOGY" 2 CD SET COMING IN JULY
DEUS VULT "LOOK UPON YOUR MASTER: THE DEMO ANTHOLOGY" 2 CD SET COMING IN JULY
By mid-1986, after heavy metal cover band Ozias—featuring guitarists Brent Chasteen and Mark Engel—fell apart while transitioning toward writing original material, the foundation was laid for DEUS VULT's formation. Brent and Mark hooked up with drummer Virgil D.B., and by 1987 had secured Tom Mangan on bass and Duane Harmon on vocals—a lineup that would produce the band's debut three-song demo in 1988. Shortly after that demo, Duane was replaced by former Thruster frontman Aaron Thomas, and DEUS VULT's most prolific run began.
Before year-end 1988, the unit crossed into Kentucky to hit Group Effort Sound Studios, resulting in an hour-long 13-song demo of impressively taut and aggressive thrash. 1989 saw the quintet re-record "Twilight's Last Gleaming" for the now-collectible Heavy Artillerycompilation from Auburn Records—appearing alongside Ohio-based acts such as Breaker, Hatrix, Purgatory, etc. 1990's proper cassette EP, Soul Assault, was then recorded at Queen City Music—the result of funding from taking first prize in a local Battle of the Bands competition—with assistance from guitar legend David T. Chastain on its final mix. Unfortunately, DEUS VULT's increasingly dark and technical brand of thrash failed to achieve wider distribution at the time, as financial shortages are rumoured to have limited Soul Assault to as few as 150 copies.
Personnel shake-ups eventually landed on Aaron Thomas taking over bass in addition to vocals, and in 1991 the group completed their final six-song demo at Ultrasuede Studios (formerly Queen City Music). As with Soul Assault, these sessions yielded increasingly long songs that—while retaining a rugged sense of aggression—were becoming more melodic, complex, and adventurous. Sadly, the recordings were never officially circulated, as Aaron left the band, which ultimately signalled the end for DEUS VULT.
But now, nearly three decades later, Divebomb Records is ecstatic to finally issue this double-CD set representing DEUS VULT circa 1989-1991. This includes the 13-song Group Effort sessions (1989), Heavy Artillery compilation track, Soul Assault EP, and the final recordings from Ultrasuede Studios for a total of 25 tracks and over two hours of highly underrated thrash excellence! Completely remastered by Jamie King Audio, the disc's booklet will be packed with assorted ephemera, as well as a lengthy retrospective interview with the band. For the fans, by the fans!
For Fans of Heathen, Forbidden, Toxik & Heretic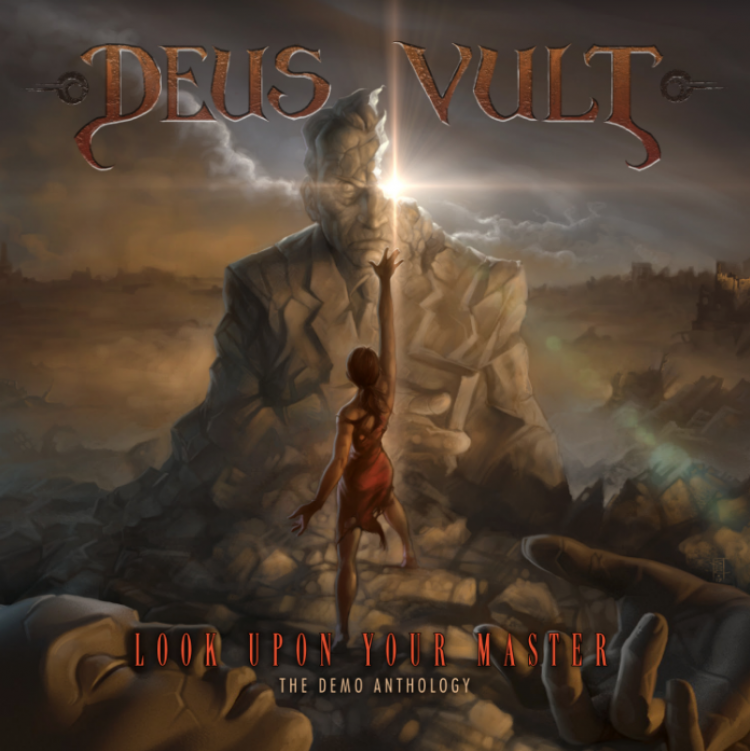 Limited edition CD – 500 units pressed worldwide – band supplied photos – full color 20 page booklet with lyrics and brand new interview - digitally remastered/restored by Jamie King Audio
Group Effort Studios Session (1989)
1. Brother's Keeper
2. Let It Be Known
3. Paranoid Delusions
4. Deus Vult
5. Speaking In Tongues
6. The Sound and The Fury
7. After The Fall
8. Instrumental Case
9. Twilight's Last Gleaming
10. Nightmare
11. The Prophecy
12. Silent Spell
13. The Pit
CD2
Heavy Artillery – Cassette Compilation (1990)
1. Twilight's Last Gleaming
Soul Assault – Demo (1990)
2. Spiritus
3. In The Rain
4. Waiting For White
5. Deus Vult
6. Brother's Keeper
UltraSuede Studios Session (1990-1991)
7. Across The System
8. Absolute Truth
9. Transformation
10. Garden Of Stone
11. One True Artist
12. Across The Egyptian Sands