FORMER RAINBOW SINGER DOOGIE WHITE - "RITCHIE BLACKMORE SUCKS YOU IN, BLEEDS YOU DRY, AND SETS YOU FREE"; VIDEO
FORMER RAINBOW SINGER DOOGIE WHITE - "RITCHIE BLACKMORE SUCKS YOU IN, BLEEDS YOU DRY, AND SETS YOU FREE"; VIDEO
In a brand new interview with Vintage Rock Pod, former Rainbow singer and current frontman for Alcatrazz, Doogie White, spoke about his time working with legendary guitarist, Ritchie Blackmore. Watch a clip below, and find the full interview here.
Doogie White followed in the footsteps of Ronnie Dio, Graham Bonnet and Joe Lynn Turner as he became the fourth lead singer of Ritchie Blackmore's Rainbow. He sang lead vocals on the bands 1995 album, Stranger In Us All. As well as working with Ritchie, Doogie went on to sing vocals for Yngwie Malmsteen and Michael Schenker and is currently fronting the iconic group Alcatrazz, whose new album is set for release next month.
In the short video below, he discusses his time with Ritchie - how they used to spend hours walking round video rental store Blockbusters, watching "rubbish movies" like The Princess Bride, and how it all ended very suddenly. "He sucks you in, bleeds you dry and then sets you free" says Doogie. He talks about how he's never spoken with Ritchie since then, but did contact him about a royalties issue. He's very complimentary of the legendary guitarist though, saying how he gave a platform to relative unknowns like Ronnie Dio, David Coverdale and Graham Bonnet (among others).
Los Angeles-born heavy metal icons, Alcatrazz, will release their new album, Take No Prisoners, via Silver Lining Music on May 19.
Alcatrazz are determined to make up for lost time, roaring forwards at warp factor 10 to deliver Take No Prisoners, their sixth studio album and the third in three years. Comprising of ten cracking, charismatic tracks, with each containing the unique fusion of classic American rock with the full grain hard-rocking attitude of British metal, Take No Prisoners sees Alcatrazz energetically soaring and exploring melodic progression with road-warrior riffs. "Little Viper" rides a scything guitar into a thunderous, Dio-like assault, whilst the band also show their calmer, more expansive side with the epic "Strangers", but when an album finishes at the burn point of "Bring On The Rawk", there can be no question that Alcatrazz's collective boot is repeatedly kicking serious ass!
Comprised of Doogie White (vocals), Joe Stump (guitars), Jimmy Waldo (keyboards), Gary Shea (bass) and Larry Paterson (drums), and with Giles Lavery and Waldo producing, Take No Prisoners is a loudly, and proudly classic rock album which draws on the Alcatrazz traditions of technically excellent screaming guitars, thunderous rhythm and the sort of vocals and overall aura that evoke prime Dio and Rainbow. And, of course, a primed and fully-tuned up Alcatrazz, whose career is fast taking on Benjamin Button proportions. The Take No Prisoners tour should be a lot of fun.
Take No Prisoners will be released on CD Digipak, 12" Black Vinyl, Digital Download, Streaming and special D2C bundles. Pre-order here.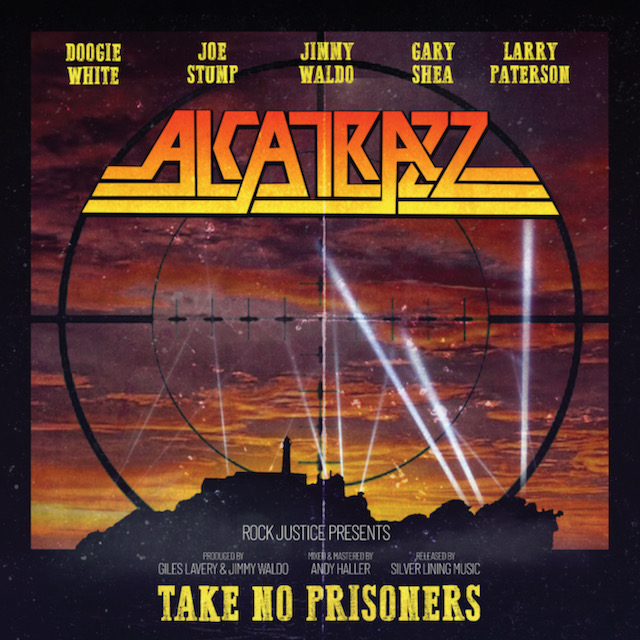 Take No Prisoners tracklisting:
"Little Viper"
"Don't Get Mad...Get Even" (feat. Girlschool)
"Battlelines"
"Strangers"
"Gates Of Destiny"
"Alcatrazz"
"Holy Roller (Love's Temple)"
"Power In Numbers"
"Salute The Colours"
"Bring On The Rawk"
Alcatrazz are:
Jimmy Waldo - Keyboards
Gary Shea - Bass
Doogie White - Vocals
Joe Stump - Guitar
Larry Paterson - Drums