ROCK HARD FESTIVAL FIRST INFORMATION ON THE EDITION IN 2022
ROCK HARD FESTIVAL FIRST INFORMATION ON THE EDITION IN 2022
Even in turbulent times, you should look ahead and therefore the first information about the Rock Hard Festival 2022 can now be published.
As usual, the festival is to take place on three days on the weekend of Pentecost in the amphitheater in Gelsenkirchen. After the one-day edition under Corona conditions this year, the planning for regular Rock Hard has long been in full swing again.
The billing for the event in 2022 is largely based on the bands confirmed for 2020.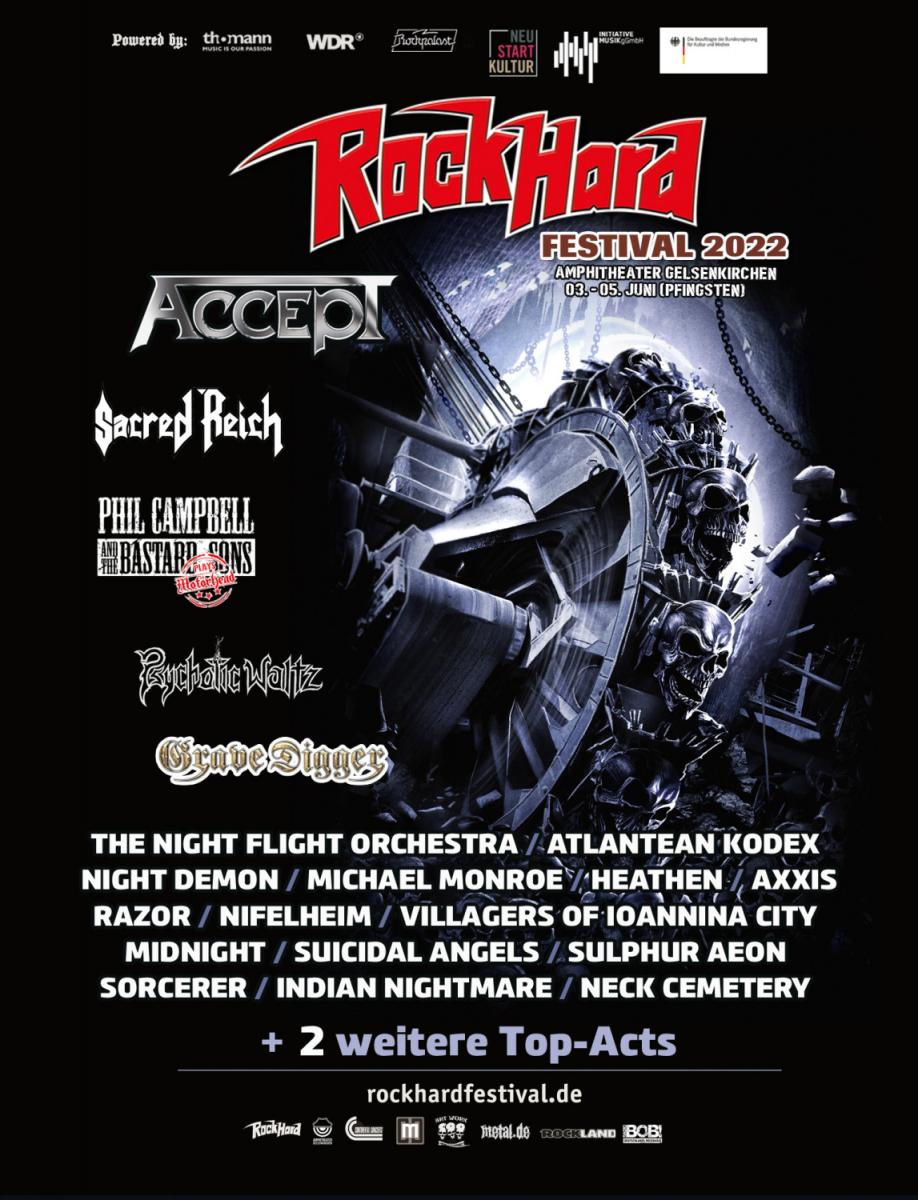 Rock Hard Festival 2022: Billing
ACCEPT
SACRED REICH
PHIL CAMPBELL AND THE BASTARD SONS play Motörhead
PSYCHOTIC WALTZ
GRAVE DIGGER
THE NIGHT FLIGHT ORCHESTRA
MICHAEL MONROE
ATLANTEAN KODEX
NIGHT DEMON
HEATHEN
AXXIS
RAZOR
NIFELHEIM
VILLAGERS OF IOANNINA CITY
MIDNIGHT
SUICIDAL ANGELS
SULPHUR AEON
SORCERER
INDIAN NIGHTMARE
NECK CEMETERY
In addition, two further highlights have already been announced. Unfortunately BLUE ÖYSTER CULT and HARLOTT canceled their appearances, but the organizers are already trying to find an equivalent replacement.
For the sake of simplicity, tickets for the Rock Hard Festival 2020 will still be valid. However, ticket holders are given the opportunity to return the tickets and have the money refunded. For this purpose, a form has been deposited on the homepage in the festival area. Further questions on the subject of "tickets" will be answered at 0231 - 56 20 14 20 (10 a.m. - 5 p.m.) or [email protected]. The 3-day tickets for the Rock Hard Festival 2022 cost 97.90 euros including all fees (ticket + camping: 123.80 euros). Tickets are available here, further information on the homepage and on Facebook.